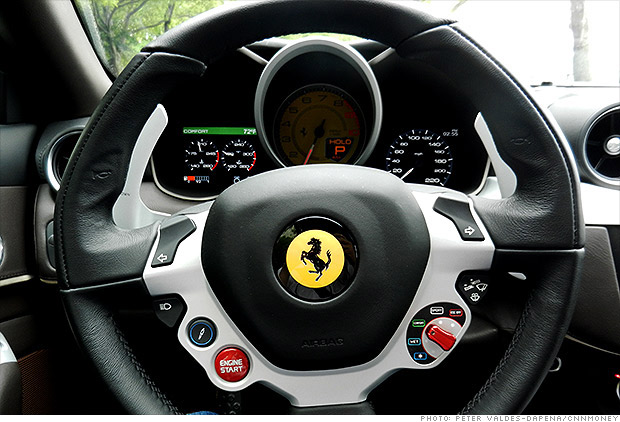 By now, we're used to seeing steering wheels with lots of switches and buttons. What's impressive here is that of all these doo-dads none of them has to do with changing the satellite radio station or answering the phone. To do those things, you'll have take your hands off the wheel.
Even more astounding is how well this wheel performs its primary task of steering the car. The FF's steering is incredibly direct and nicely weighted, whether in "comfort" or "sport" mode. Turning the leather-wrapped rim results in immediate and precise movement of the FF's nicely shaped nose.
The brakes, likewise, are monster-strong but thoroughly refined and controllable. And the FF's seven speed transmission is a masterpiece, shifting smoothly and with lightning speed and timing. For added fun, you can squeeze on those paddle shifters yourself or just leave it in automatic mode and get whisked along for the ride.
The FF's hi-tech suspension is surprisingly supple even on New York's ugly, badly-patched roads while still providing firm control. You can feel the road but without getting punished.