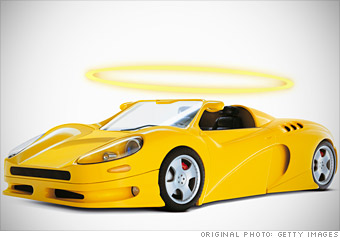 In the current issue of
Automotive News
, Ford executive Mark Fields is asked whether Lincoln needs a "halo car." He smartly ducks the question: "We want to make sure every vehicle we bring out with Lincoln is a halo car."
Many automotive terms have become anachronistic or simply defunct over the years -- rumble seat, four-on-the floor, carburetor -- but for some reason, the notion of the "halo car" survives. It's a car with a stylish design or unusual features meant to draw customers into a showroom but not generate a lot of sales -- nor make a lot of money.
While halo cars may look heavenly when they are conceived, as often as not they end up as fallen angels. They are dismissed as automotive curiosities that failed to capture public imagination, while creating an effect exactly opposite to the one they were designed for: damaging brands rather than lifting them. Here are some classic examples of tarnished halos.

By Alex Taylor III, senior editor-at-large
@FortuneMagazine
- Last updated June 11 2012: 9:54 AM ET