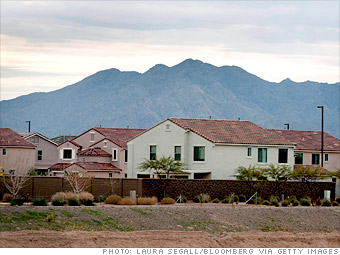 During the bust of the housing market, this sprawling desert metro was one the nation's hardest hit. Between 2006 and the end of 2011, prices declined 55%. In 2009, Arizona's foreclosure rate ranked the nation's third highest.
But home prices have rebounded in a big way. As of May, the supply of homes on the market tightened to 3.5 month's supply. With more than 52% of mortgage borrowers owing more than their homes are worth, many have held off from putting up that 'For Sale' sign. Now there are more buyers than homes for sale.
During the last three months of 2011, prices in Phoenix rose by 2%, the biggest increase of any metro area in the country, according to the Standard & Poor's/Case-Shiller index tracking 20 cities.
Despite the improvement, there are plenty of reasons to remain skeptical: Three years ago, Phoenix saw prices move modestly higher when federal tax credits spurred a buying frenzy. However, prices dropped once the credits expired. What's more, some worry the market could get saturated in the coming year, as banks still hold many foreclosed properties on their books.