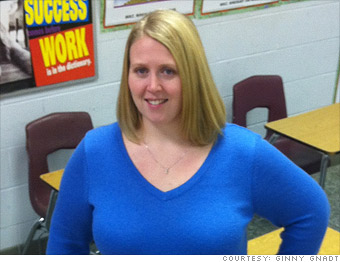 Name: Ginny Gnadt
Age: 29
Hometown: Chesapeake, Va.
Occupation: High school teacher
I followed "the plan" to achieve the American dream and now I feel like I'm caught in a stagnant nightmare.
My husband now works for the Navy as a civilian and I am a high school teacher. We bought our two-bedroom townhouse nearly at the peak of the housing boom for $196,500. We're underwater on our mortgage with a high interest rate. I'm looking at having to stick with this house for eight, nine, 10 years.
I really would like to have two or three children, but I just don't think it's feasible to have that many children in this house. It's too small to have a family and it's not what I envisioned for myself when I followed the rules.
When my mom was my age, she was already living in a house where she would raise me and my three sisters. She had already achieved her American dream and I'm not able to do that.
All I want is to move forward and build a life like my parents had. Right now -- that is profoundly out of reach.