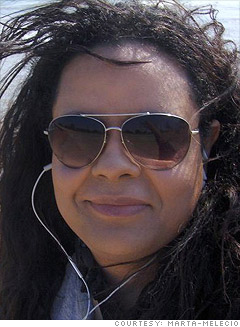 Marta Mele'cio
Social media manager and reservation agent
Chicago, Ill.
Vacation. I've read about this in a book once.
I often pass up taking vacation days, and haven't had a vacation in quite some time -- years in fact. A real vacation where no work was involved and my days were free -- I can't recall what that feels like anymore. For me, right now I'm trying to regain what I lost during the recession and that was a lot of money when the work and business was not doing so well.
Even when the economy started to bounce back, the furthest from my mind was a vacation.
Now we're all in this "save more of your earnings!" mode to avoid the falls millions of us faced early on. I don't think about vacation days like I use to. In the past, I would plan out what days I would take off for a trip, or even time to just do nothing. I cannot afford that luxury yet. Just thinking about it -- I use to call all off and use up a vacation day if all my sick days were gone just to relax at home.
It's like you know those vacation days are there, but you just keep pushing forward. You keep working to support yourself, and your family. You keep working on those goals and tell yourself -- next year.