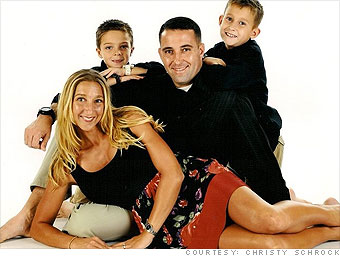 Name: Christy Schrock
Location: Fort Sill, Okla.
Number of times they've moved: 6
My husband and I married when we were in college. When he graduated from West Point in 2001, we combined all of our assets and liabilities and had $80,000 in debt, including car loans and student loans. We had a big wedding, which contributed to the debt.
Then, my husband was deployed multiple times -- and I realized how precious life can be. For us, it's become important to maintain personal responsibility over our finances.
First, we just focused primarily on paying off bills. It made the most sense to start off with some of the smaller amounts because we got more gratification that way. We gave up so many things. Instead of doing things that cost money, we would go for a hike. Then we started saving for our children, they are our priority now.
But we don't strive to save everything for tomorrow. It's important for us to live for today, too -- and enjoy a little of what we work so hard for.
Schrock now works as a financial counselor helping families of fallen service members with their own financial needs.