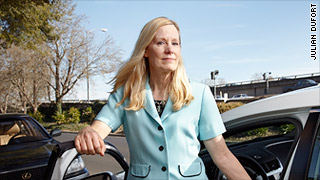 Rosemary Shahan, president and founder of Consumers for Auto Reliability and Safety Why she's a hero:
Shahan, 62, has spent three decades fighting on drivers' behalf for more effective repairs, improved safety, and fairer financing. Turned activist in 1979 when a garage failed to fix her VW Dasher, the California college instructor lobbied the state for better protection; her model lemon law requiring timely repairs and dealer disclosures sparked legislation nationwide.
Her current passion:
She's pushing the Federal Trade Commission to crack down on "yo-yo financing" -- a bait-and-switch practice in which car buyers drive off the lot believing that their loan has been approved but are told later that they'll have to pay a much higher interest rate.
Quote:
"Concerns about auto safety are in my bones. My parents were hit by a drunk driver when I was about 10.
My mother never fully recovered. She lived to be 86, and to her dying day she asked me, 'Could you rub my shoulder?' "