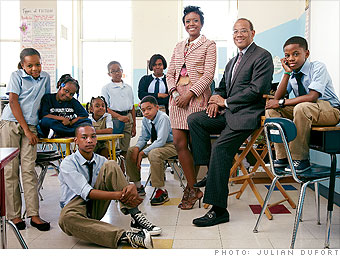 John Rogers,
CEO of Ariel Investments, and
Mellody Hobson,
president of Ariel investments
Why they're heroes:
Lots of folks talk about the need to teach kids financial literacy. Rogers, 54, and Hobson, 43, actually launched a school that does just that.
At Chicago's Ariel Community Academy -- just one of the pair's many educational projects targeted at children and minorities -- finance lessons start in kindergarten, and middle-schoolers manage real investment portfolios.
"Financial literacy is like a language. Learning is so much easier when kids start young and build up that knowledge year by year. By the time they get to high school, they're fluent," says Rogers.
Their current passions:
Rogers, an esteemed value manager, chairs the President's Advisory Council on Financial Capability, creator of the new site MoneyAsYouGrow.org.
Hobson wants to widely share the academy's curriculum. "We think it will be groundbreaking," she says.