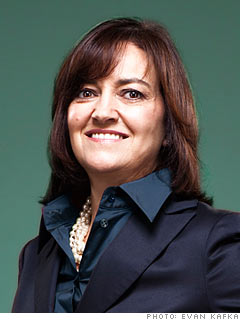 Manager tenure: 9 years
Fund type: Large-cap value
Expenses: 0.95%
Her picks General Mills:
"General Mills has strong brands. Plus, the market underappreciates its joint venture with Nestle to expand into developing markets. The stock -- which has a 3% yield -- is inexpensive compared with the value of the company."
Kimberly-Clark:
"The stock has a 4% yield, and management typically increases the dividend each year. The company's consumer products show innovation [like Huggies Slip-On diapers], and people are willing to pay up for them."
SunTrust Banks:
"SunTrust has a stable core deposit franchise of about $120 billion. It is trading at about 75% of its liquidation value. The current yield is low, but management can grow profits as the economy recovers."
Secret of success
When identifying dividend opportunities, Walsh doesn't put high payouts first. Instead, she focuses on total return, the combination of a stock's dividend and its change in share price.
"We want companies with at least 35% total return over two or three years," she says. She seeks firms that are profitable and generate a lot of cash -- signs, she says, that the dividend can increase and the business has room to grow.
This methodology helped the portfolio weather 2008. And it didn't hurt that Walsh had steered clear of large financial institutions, which ended up wrecking a lot of big value funds. Dividend growth has helped give the fund an edge since then. In fact, 67% of the fund's 75 holdings increased dividends in 2011.
Where she sees opportunity
Walsh has been investing heavily in consumer staples, like food and hygiene companies. Stocks in the sector have been flattened by rising commodity prices (investors worry grain costs could hurt cereal makers). "But these companies typically can pass price increases on to consumers," Walsh says.
She also likes large regional banks, which she says are trading for less than their worth if liquidated. But act fast if you want to follow her lead, she warns: "Historically these have rebounded well before economic conditions turn."