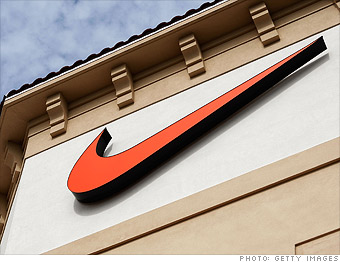 % of MBAs who want to work there:
8.87%
Headquarters:
Beaverton, OR

You don't need to run a four-minute mile to succeed at Nike, but you better bring your competitive drive. The global sporting-goods giant is serious about extending the reach of its swoosh brand, especially in China, where sales have been so robust that Nike is building a new 600,000-square-foot campus in Shanghai.
Players on Team Nike work hard, and they also get plenty of opportunities to play. Its 176-acre headquarters features world-class sporting facilities and is located a stone's throw away from downtown Portland.
What they're looking for: "We look for candidates who are leaders, risk-takers, innovators, passionate about sport, possess an entrepreneurial spirit and who are competitive in nature," says Mary Remuzzi, director of global corporate communications.
Opportunities for MBAs are diverse: Grads might find themselves doing anything from establishing the vision for a product line to building relationships with high-profile athletes like LeBron James.

Getting hired: The primary way to land a full-time gig is through Nike's internship program. The company currently actively recruits at about 10 B-schools, Remuzzi says, and the list is reviewed annually.
Nike hasn't yet decided how many new MBAs it will hire next fiscal year, but the firm is hosting 55 MBA interns this summer.

Did you know? Each of the 18 buildings on Nike's campus is named after a sports figure the company has been closely associated with. Mia Hamm, Lance Armstrong and Tiger Woods are just a few of the athletes who have been so honored.