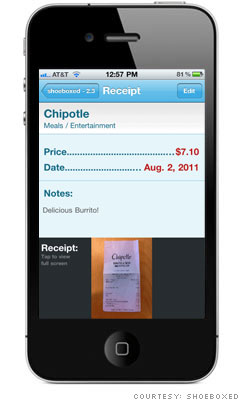 App: Shoeboxed
Before you can even think about filling out tax forms, you need to get organized.
Instead of stuffing receipts in a shoebox throughout the year, you can simply take photos of them and store them in an online account using the "Shoeboxed" app.
Once receipts are downloaded, they are sorted by date and archived into spending categories like meals, travel, fuel and office supplies. You can then search for specific expenses and add them all up when claiming deductions at tax time.
You can upload and store an unlimited number of receipts in a free account by snapping photos of them. But in order to organize your spending by category and calculate total expenses, you need to transfer the key data from your receipts -- like the vendor name, items purchased and total cost -- into your account. With the free version, Shoeboxed will transfer this information for you automatically for the first five receipts. For any receipts beyond that, you either have to manually enter the data or pay a monthly fee starting at $9.95 if you want Shoeboxed to continue uploading your data automatically.