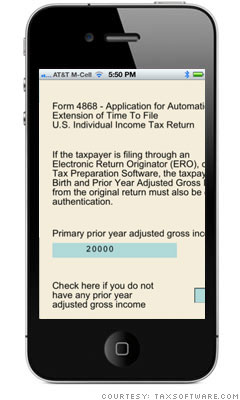 App: Form 4868 Extension
If you don't think you're going to get your taxes filed on time, you can even file for an extension through your iPhone.
While the interface could use some work, Taxsoftware.com's 99-cent app lets you file an extension via Form 4868 on your iPhone.
Simply fill out the necessary information, and the app plugs it into the form. When you press "send" your extension application is submitted to the IRS. The IRS will then e-mail you directly to let you know whether your request was approved -- typically within minutes.
Just don't wait too long. Extension applications must be submitted before the tax deadline, which is April 17 this year.