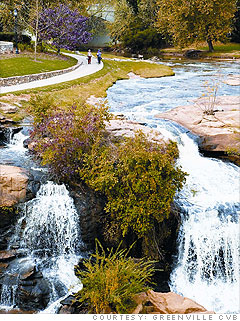 Population: 400,492
Growth (2000-2010): 32.5%
Once known for textile manufacturing, Greenville has become an international powerhouse, hosting companies from all parts of the globe.
The city, along with Spartanburg, Anderson and other nearby towns known as "The Upstate," boast more than 250 international firms, including BMW (Germany), Michelin (France), GlaxoSmithKline (United Kingdom) and Kyocera (Japan).
"That's the highest international investment per capita in the nation," said Nancy Whitworth, Greenville's Director of Economic Development.
Whitworth said the area's international flavor is actually derived from its textile past when people came from all over the world to buy and sell and study manufacturing techniques.
BMW, which arrived in nearby Spartanburg in the mid-1990s, is already on its fourth expansion, according to Whitworth. The factory has spawned other enterprises that supply parts and services to BMW.