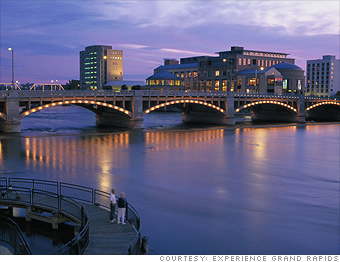 Median home price: $100,000
Median income: $60,300
Affordability score: 91.2%
As in many once-booming Midwestern cities, Grand Rapids was built up during an era of prosperity and high population growth. Now it's left with a large inventory of fine, old houses that are weighing on home prices.
In addition, several local non-profits are working to save area neighborhoods by renovating older homes and renting them out or reselling them, said Kara Wood, the city's director of economic development.
With population growth slowing over the past few decades -- the metro-area population grew at about half the national rate over the past 10 years -- there's more than enough homes to meet buyer demand.
Meanwhile, the city's economic base, which once relied heavily on the furniture-making industry, has become more diversified. Health care is now a driving force in the local economy, said Wood.
And there are plenty of good-paying jobs. Spectrum Health, which runs several hospitals in the area, employs more than 16,000 local residents, plus 1,500 physicians.