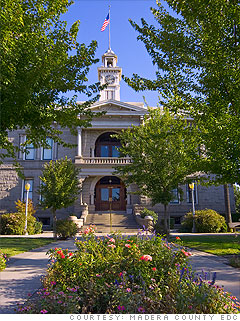 Median home price: $125,000
Drop since market peak: 53.1%
Forecast gain through 2013: 21.5%
Home buyers started coming back to Madera earlier this year.
"Homes are selling quickly and with competing bids," said Esther Riffel, president of the Madera Association of Realtors.
A lot of that has to do with the dirt-cheap prices. At $125,000, the median home price is well below the national average of $163,000, according to Fiserv.
And buyers get plenty of home for their money: Recently, a 2,400 square-foot home with three bedrooms and three baths sold for just $127,000. Five years ago, the same home went for about $375,000.
However, part of the reason the deals are so good is that most of the sales are foreclosures or short sales, said Riffel.
Another thing to be wary of in Madera: The jobs picture. As in most nearby cities in California's Central Valley, unemployment is high, at 16.6% in March, according to the Bureau of Labor Statistics.