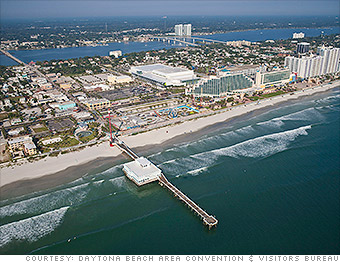 Median home price in 2012: $114,000
Projected home price in 2015: $123,282
Projected annual rent in 2015: $11,048
In a market like Daytona Beach, where the median home price is down to $91,000, most homes are very affordable. But many locals still aren't buying.
"By and large, single-family homes are not priced beyond the reach of renters," said Winzer. But bad credit histories, often due to past mortgage payment problems brought on by Florida's severe housing bust, have made it difficult for many local residents to get mortgages, forcing many to rent.
For real estate investors, that means there's plenty of demand.
And the risks associated with renting in the area, which was hit hard by the housing bust and recession, have also started to subside. Unemployment dropped by 1.9 percentage points to 8.7% over the past 12 months.
Even with the lingering economic issues in the area, there's a lot of potential reward, according to Winzer. The estimated return for landlords in Daytona is about four percentage points higher than the national; average, according to HomeVestors.