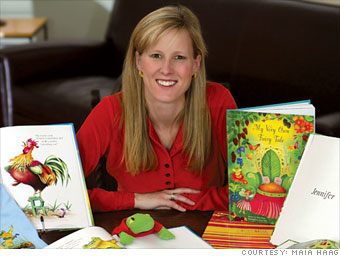 Location: Minneapolis
Annual sales: $5 million
Maia Haag just had her first baby in 1998 when someone gave her a personalized baby book as a gift. "The proverbial light bulb went off," she said. "My husband and I loved the book but thought we could have done it much better."
So while on a six-month maternity leave from her marketing job at General Mills, Haag developed and wrote her own personalized children's book called "My Very Own Name." In the book, whose story is tailor-made for each child, the child's name is incorporated into the storyline and illustrations.
Later that year, Haag resigned and started her own firm with money she inherited from her grandmother. Her company originally published 5,000 copies of the book.
Today, I See Me! Inc. generates $5 million in annual sales and has published 15 personalized book titles, many of which are sold at Toys "R" Us, Nordstrom and FAO Schwarz.
"Children love the idea of a story being about them and [seeing] their name in the illustrations," said Haag.
Haag found success as a businesswoman while also being a mom to three children. "What I love about it is the flexibility I have in working from home. I can be around my kids," she said.
Not that it's always easy doing business with pre-schoolers around. "I remember being on the phone with a buyer from Nordstrom, standing in the closet while my 5-year-old was knocking on the door," she said. "My kids will always come first. You just have to find the humor in these moments."