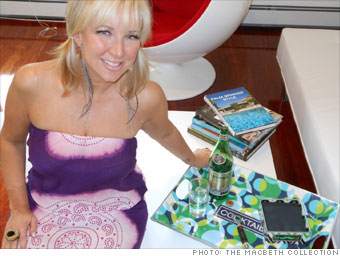 Location: Dayton, N.J.
Annual sales: $26 million
Dress designer Margaret Josephs decided to be a full-time mom soon after having her son in 1996. "I couldn't take being away from him," she said. At the time, Josephs was also looking after her three stepchildren.
"My home was cluttered all the time. I decided I needed a storage solution," she said. And while she was at it, she decided to start a decorative storage products business.
In 1998, Josephs pursued her first idea -- decorative metal buckets. She went to Home Depot, bought a few plain metal buckets and painted them. She supplied 20 to a local store. "They sold out in two days," she said. "I thought I was on to something."
Josephs expanded from buckets to painted and decoupage trays, and other home accessories. A year later, orders were coming in so quickly that Josephs recruited her nanny and others in the neighborhood to make the products.
In 2000, she got her first big order, $40,000, and the business "exploded," she said. Two years later, "The Macbeth Collection" -- a name she picked because it sounded regal -- crossed $1 million in sales.
Her business today generates about $30 million from licensing agreements and direct sales. Her products are sold in major retail stores such as Barnes & Noble, Bed, Bath & Beyond, and soon in Target.
While she's enjoying her success, Josephs admits it's been hard to juggle being a mom and an entrepreneur. She's made it work because "women are amazing multitaskers," she said.
Her now 16-year-old son is "so proud," she said. "He calls me the 'Rock & Roll Martha Stewart.' "