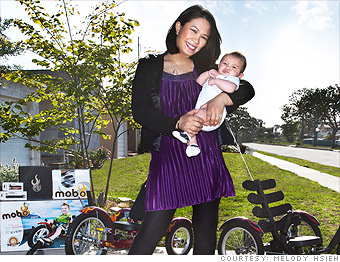 Location: Los Angeles
Annual sales: $1 million
Entrepreneurism runs in Melody Hsieh's blood. Her parents operated an auto parts factory in Taiwan, where she once worked at the age of 8.
"I learned early in life that hard work and smart work are the essential ingredients to running a successful business," she said.
So after college in 2000, Hsieh decided to start a company, with family money, that sold scooters. By 2003, sales at her ASA Products surged to $3 million.
But in the next three years, annual sales quickly plummeted to $300,000. "My mistake was that I had no long-term strategy to build my brand," she said. "I was just pursuing a hot trend, and not paying attention to competition, customer service or marketing."
In 2006, she took a hiatus from her company and went back to school for her MBA. In late 2006, she relaunched a new product -- Mobo Cruisers -- a line of three-wheeled cruisers for kids and adults. "This time I applied what I learned in school about marketing, operations and research before I launched the brand," said Hsieh.
Today, Mobo Cruisers is sold through Target and Toys "R" Us and expanding into Canada. Hsieh, who's a new mom to her three-month-old son, said she's busier than ever now. "Women can do it. It's hard but you don't have to give up one role for the other," she said. "Have a routine that works for you and stick to it."