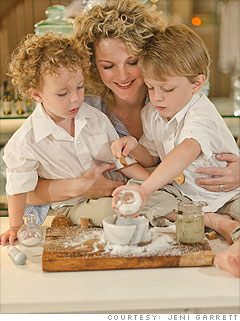 Location: Victoria, TX
Annual sales: $30 million
Jeni Garrett was just 21 years old and working as a cost accountant, but she dreamed of opening a spa.
She researched the industry and decided that their hometown of Victoria, Texas, could be a good market for a high-end spa. So she and her husband took out a bank loan and opened one -- two weeks after 9/11.
It wasn't the ideal time to start a luxury business, but her firm took off.
Today, her company has 30 spas nationwide, and generates annual sales of $30 million. She's also developing a deal to open 100 spa locations in India in the next 10 years.
Four years ago, her business and personal life changed dramatically when she had her first son Eli. Her second son followed less than two years later.
"My sons rocked my world," she said. "I was used to working 12 hours. Now I've learned to prioritize and also adapt to being a mom."
One incident: "I was travelling for business one time and still breast feeding. I found myself on the floor in an airport bathroom using the breast pump so that I stayed on schedule."
But she's made it work. "I live and work one minute away from my children's school. That helps a lot."