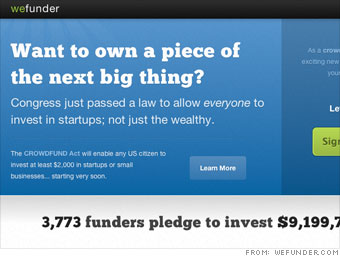 Mike Norman says he created Boston-based WeFunder "specifically to respond to the new opportunities the JOBS Act provides."
Norman and his three cofounders are alums of other startups including SoChange, Smartcloud and Crowdly.
"We're serial entrepreneurs," Norman says. "We created the kind of solution that we'd want for our own startups."
WeFunder has been running a private beta test, through which nearly 3,800 backers have pledged almost $9.2 million to startups, the site claims. But until the new laws kick in, that's all funny money. No actual cash can legally change hands.
Norman says he's holding off on providing more details about the platform until later this year, when the new Jobs Act rules take hold.
But he pledges that the site will stay true to its "for startups, by startups" approach.
"We're not a bunch of finance guys who saw a big number on a spreadsheet and decided to do this," Norman says. "We're focusing on the quality of experience for people who are just like us."