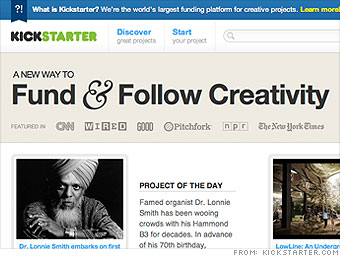 The Jumpstart Our Business Startups (JOBS) Act, signed into law by President Obama this week, wipes away a batch of regulatory restrictions on small companies.
For the tech field, the single biggest change is that it legalizes crowdfunding for business ventures. Previously, entrepreneurs couldn't sell shares in privately held companies to the general public. Now, with some restrictions, small firms will be able to raise up to $1 million from small-time investors.
Where will those potential investors go to shop for deals?
The site that helped catapult crowdfunding into the mainstream might not jump in. Kickstarter, a platform for funding creative projects, has been such a smash success that other sites often bill themselves as "the Kickstarter for [fill in the blank]."
Kickstarter lets makers of things like video games, magazines and quirky products raise money for a set period of time. It's all or nothing: If the project isn't fully funded by its deadline, no money changes hands. Backers don't get any financial stake in the projects they fund. They get other incentives and rewards, like a DVD of the play they raised money for or a copy of the book they funded.
Would Kickstarter be interested in letting ventures offer equity as a "reward"? It's unclear. The company has repeatedly declined to comment to media outlets, including CNNMoney, on the effect the JOBS Act will have on its business. But plenty of other companies are ready to expand -- and new startups are springing up almost daily. Here are some of the players who could be influential in the business crowdfunding market.