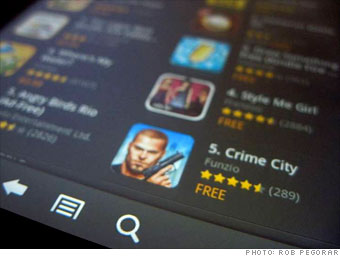 This tablet doesn't run a stock version of Google's operating system. Amazon tweaked it at length, making the Fire a bit of a mutant. I knew that would require adjusting to different interfaces, but two of the Fire's peculiarities have never gotten past that early awkwardness.
First, switching between apps requires returning to the home screen -- there's no tap-and-hold shortcut to show open programs. Second, typing a comma demands a tap-and-hold of the period key. You'd think that a book publisher -- of all the companies in the world -- would know how important commas are to English grammar and how often they're used and how weird a sentence looks without any.
Amazon's separation from the Android ecosystem extends to its separate Appstore. That catalog now stocks 31,000 apps (compared to almost 444,000 in Google's Play Store) and includes such post-Fire additions as Twitter, but high-profile titles like Facebook and Spotify have yet to appear.
Worse yet, Amazon seems to be banishing its rivals. You can find semi-obscure e-bookstore apps Aldiko or Kobo in a desktop search of the Appstore, but queries for them on the Fire return nothing. An Amazon spokeswoman did not offer an explanation after six e-mails requesting one.