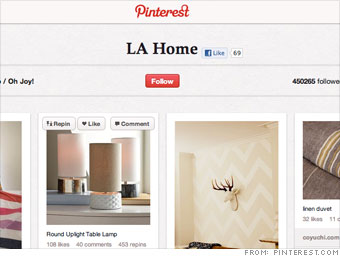 Scooping up the hottest new social network would be a no-brainer for Facebook. The suddenly ubiquitous site has a user base of 18 million that's growing faster than anything since -- well, Facebook. Y Combinator partner Paul Buchheit, who gets an early look at almost every promising startup in the tech field, calls Pinterest "the obvious one to watch."
Pinterest broke through in the cluttered social-networking field thanks to its unique visual focus and its simplicity. Like Twitter, it's one of the rare Facebook rivals showing signs of staying power.
That means it wouldn't come cheap. Facebook paid dearly for Instagram, forking over 1% of its corporate equity to Instagram's cofounders -- a move Facebook founder Mark Zuckerberg doesn't sound eager to repeat. As he said at the time: "We don't plan on doing many more of these, if any at all." Pinterest has $37 million in financing from investors and a valuation well north of $200 million. Unless Facebook moves fast, Pinterest will be out of its financial league.