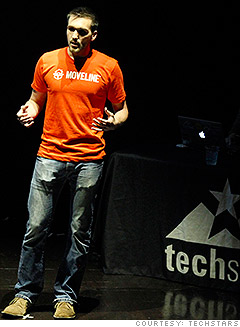 Put simply: moving is agony. Moveline wants to make your move simpler.
Trying to figure out how much stuff you have? Take a video of your space and Moveline will generate an inventory list of all of your furniture and things. After it builds the list, Moveline offers it up to various moving companies and invites them to bid on the move. Want to chat with a rep from a company you're considering? Moveline will help you set up a Facetime appointment and schedule a virtual consultation.
The app will also ballpark how many boxes you'll need, what size moving truck will fit all your debris, and what equipment you'll need if you go the do-it-yourself route. The app is free to users; the company's business plan is to take a small fee on jobs that moving companies book through Moveline.
Founder Fred Cook is in the process of raising a $1 million funding round. "We're looking for investors to look at a massive, antiquated, paper-based industry and tell it that its day is done," he announced at TechStars' Demo Day.