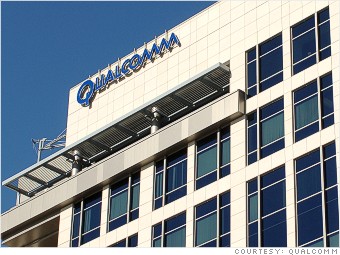 Ticker

: QCOM

P/E

: 15

EPS growth

: 21%
Smartphone and tablets have a way of alluring consumers with their sleek and sexy designs, but it turns out that it's what's on the inside that really counts.
And that's put Qualcomm on our list for the second year in a row. We were rewarded with a 13% gain in 2012.
The company's wireless and mobile technology can be found in the latest Apple (AAPL) iPhones and iPads, BlackBerry's (BBRY) new BB10 devices, Microsoft's (MSFT) Windows phones and Surface tablet, as well as many devices that run Google's (GOOG) Android mobile operating system.
The San Diego-based company reported record revenue of $6 billion for its fiscal first quarter, driven by growing mobile demand. And analysts say Qualcomm (QCOM) will continue to benefit from the growing popularity of smartphones and tablets, especially as 3G technology expands in emerging markets.
The chipmaker also rakes in a good chunk of its revenue through licensing fees and royalties for its wireless technology patents.
In addition to running a strong business, Qualcomm rewards shareholders with stock buybacks and dividends. The company repurchased nearly $1.5 billion of its stock in 2012, and has plans to buy an additional $2.5 billion. The company also pays a quarterly dividend that yields 1.5%