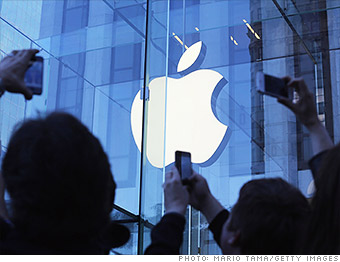 Ticker

: AAPL

P/E

: 10.4

EPS growth

: 1%
If a company could be cyber stalked, it would be Apple.
Apple (AAPL) is by far the most viewed stock ticker on CNNMoney. In fact, users checked AAPL more often in 2012 than the next four most searched stock tickers combined.
It's not hard to understand why. The iPhone and iPad maker is the most valuable company in the world. Although it briefly lost that title to Exxon (XOM).
Apple is a perpetual profit machine that sits atop a mountain of cash. Its shares are so widely-held that Apple has been known to exert an undue influence over broad market indexes, such as the S&P 500.
Many analysts say Apple is still priced at attractive levels relative to earnings expectations, but lately the love investors have for it has become more conditional.
Shares of Apple have tumbled 33% from their all-time closing high of $702.10, hit in September 2012.
The decline comes amid concerns about waning demand for the latest version of the iPhone, which is facing increased competition from Samsung and others. Investors have also been questioning whether Apple can continue to innovate without its visionary leader, Steve Jobs.