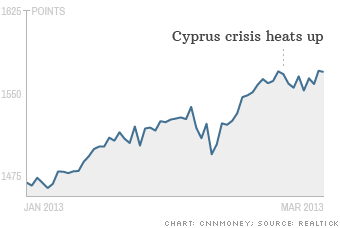 U.S. stocks may seem ripe for a pullback, as Europe's debt problems have returned to the limelight. But experts aren't anticipating a spring slide in the stock market for a fourth year in a row.
In fact, even though the Dow and the S&P 500 are at all-time highs, stocks are not at a peak yet, said David Kelly, chief global strategist at JPMorgan Funds, adding that stocks are still cheaper than they were at the peaks in 2000 and 2007.
Valuations are lower now than they were at previous bull market highs because company earnings are stronger, he said. Plus, interest rates are far lower than they were in 2000 and 2007. The 10-year Treasury yield is around 2%, compared to around 4.5% in 2007 and 6% in 2000.
Barring any major shocks, Kelly expects investors will start to put more of their cash into the stock market and even begin to shift their money out of bonds and into stocks.
He expects U.S. stocks will return between 6% and 8% a year for the next five years.