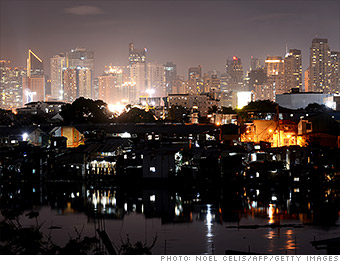 Philippine stocks have soared to all-time highs this year, as the Southeast Asian nation earned its first-ever investment grade credit rating.
The Philippines earned a BBB- rating and a stable outlook from Fitch Ratings in March. The ratings agency gave kudos to the country's resilient economy and its moderate budget deficit thanks to improved fiscal management by President Benigno Aquino.
In addition to the investment grade rating, investors have been drawn to the Philippines because it's shielded from the economic slowdown in China, said Ashraf Laidi, chief global strategist at City Index in London.
Video: Philippines tap energy from Earth's core
"The economy doesn't depend on exports to China like many other countries in the region," said Laidi. "It's more tied to domestic consumption."
The iShares MSCI Philippines Investable Market Index ETF (EPHE) has raked in more than $180 million this year, and is up almost 20%.