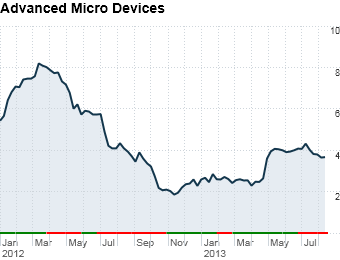 2013 stock performance

: +52%

2012 stock performance

: -56%
The shift from computers to smartphones and tablets has been challenging for Advanced Micro Devices (AMD).
Shares of the second-largest producer of PC processing chips plunged more than 50% in 2012.
But AMD has made up most of that lost ground this year, as the company focused on the gaming segment. In its most recent quarterly report, AMD boasted that its "technology is inside all three of the next generation gaming consoles: Nintentdo Wii U, Sony (SNE) PS5, and Xbox One."
AMD said it expects to turn a profit during the third quarter, which would mark the company's first positive quarter since the second quarter of 2012.
Wall Street is also optimistic about AMD's future.
Merrill Lynch analysts recently upgraded AMD's stock by two notches to a "buy." They think AMD's dominance in gaming consoles could help it generate "a multi-year recurring revenue stream, away from its inconsistent past under Intel's (INTC) shadow."
Merrill Lynch analysts have a $6 price target on AMD's stock, up 64% from current levels.