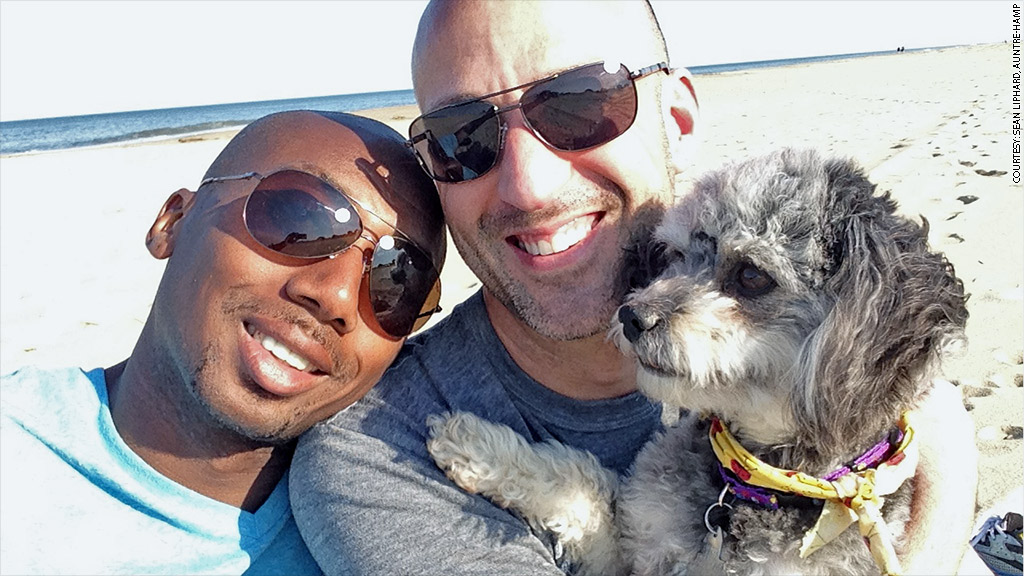 Sean Liphard and Auntré Hamp
Washington, D.C.

Liphard and Hamp have a lot to celebrate. Not only did they hit their one-year wedding anniversary last month, but filing their taxes this year was the easiest it's been in a long time.
"I actually did our taxes myself this year just using TurboTax [for $49] and they were filed and complete in February with little to no stress," said Hamp.
In previous years, when they were in a domestic partnership and later legally married, the couple had to file multiple state and federal tax returns and spend about $200 in preparation fees. That's because the Defense of Marriage Act -- which defined marriage as between a man and a woman -- didn't allow same-sex couples to file their taxes jointly at the federal level.
Here's where Liphard and Hamp were a year ago
Filing jointly meant Hamp and Liphard, who make similar incomes, owed roughly $2,000 more in taxes this year. However, that hit was offset by the $1,500 in tax they no longer owed on the health insurance Liphard received from Hamp's plan.
But it has been the broader, domino effect of the Supreme Court's decision to overturn DOMA last year that they have been most excited about.
"We have been ecstatic to see the impact the DOMA ruling has had in helping usher in marriage equality to other states," Hamp said.
First published June 24, 2014: 11:23 AM ET
Partner Offers
Paid Partner