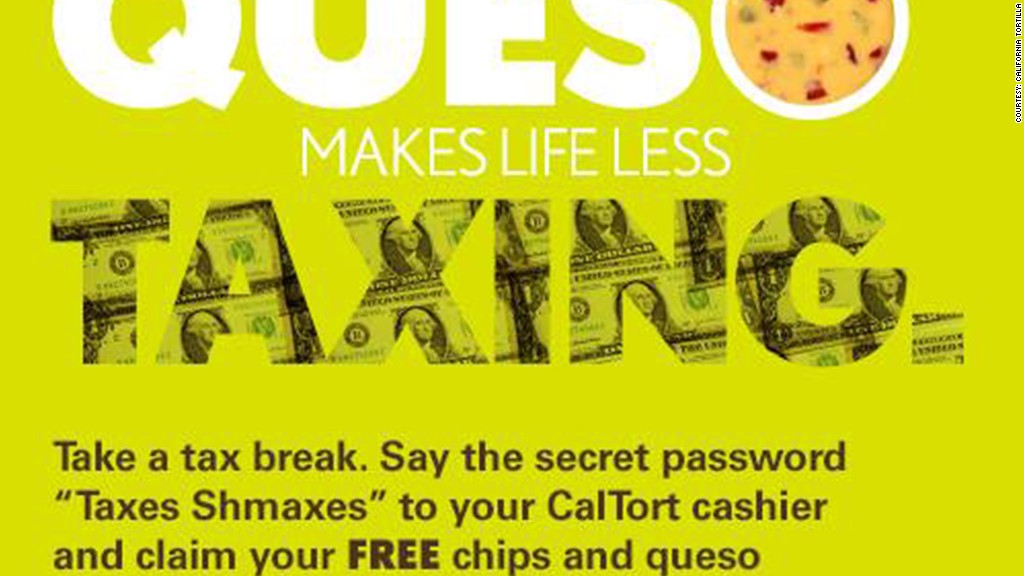 Eat your heart out this Tax Day.
Say the secret password, "Taxes Schmaxes" to a cashier at any California Tortilla location on Tuesday, and you'll be handed free chips and queso.
The Hard Rock Cafe is letting taxpayers "sing for their supper:" Perform a song on stage -- in front of the entire restaurant -- at any of the chain's locations on April 15 and you'll get a free dinner.
Arby's is giving away snack-sized orders of curly fries (you just have to print a coupon from its website), and Schlotzsky's restaurants are giving customers a free small sandwich with the purchase of chips and a drink.
At Southern barbecue chain Sonny's BBQ, customers can take 50% off its rib platter on April 15. And if you live in Long Beach, Calif., you can grab a free taco from local restaurant Alegria.
First published April 15, 2014: 1:05 PM ET
Partner Offers
Paid Partner