While most of America sat down with friends and family for Thanksgiving feasts Thursday, 32-year-old Chris Hill was hard at work.
Hill, from Norwalk, Conn., is a senior general manager of New York City's midtown Gap. He has worked at Gap for more than 14 years, and this was his 14th year working either Black Friday or Thanksgiving.
To fit in family time with his wife and 3-year old son after his shift, Hill ended up putting in an 18-hour day on Thursday. And he had to go back to do it all over again on Black Friday.
Here are journal entries from Thanksgiving Day:
4:30 AM
My alarm goes off and the house is incredibly silent. I roll out of bed trying to be quiet so as not to wake my wife, Lisa, or son, Tyler, who crawled into bed with us in the middle of the night.
5:20 AM
I get to the train station which is a ghost town. Because it's Thanksgiving it is definitely a different crowd than a typical Thursday. I call my store and talk to one of my managers, Jared, about what happened overnight and what was accomplished in preparation for today and Black Friday weekend.
6:40 AM
I arrive at Grand Central. It just hits me how beautiful Grand Central is...I never really pay attention and normally use the side tunnels, but today they are closed due to the holiday. I make my way outside and walk the six blocks to my store. On the way, I stop by McDonald's and buy some breakfast sandwiches for the overnight team and a few extra for the homeless people I see in the same spots most days.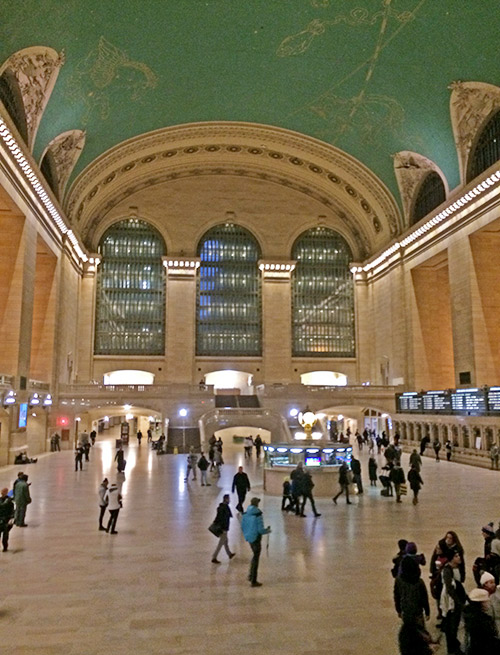 6:55 AM
I go to my store and head up-stairs, drop all my stuff off in the office and begin by walking the store. I go through all three floors and the two stockrooms to see what the team accomplished overnight.
7:15 AM
After I walk the store on my own, I touch base with my managers that worked the overnight. Jared, my merchandizing manager, walks me through all the moves and filling he did in preparation for Thanksgiving Day and Black Friday. I also meet with my stock manager Xiomara who updates me on the 8,000 units of shipment that we received that night. All in all, they got a ton of work accomplished, and I feel good about the coming day.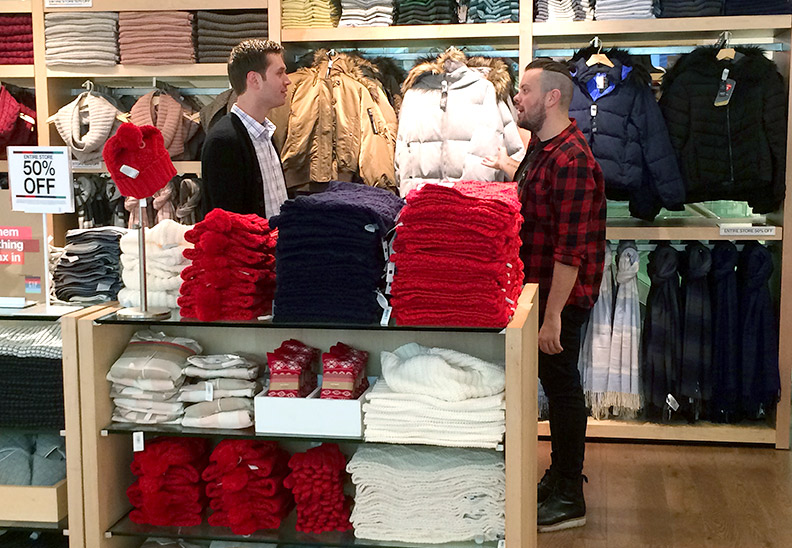 8:00 AM
I let Jared and Xiomara out of the building and start deploying my staff to finish up any of the last-minute cleaning, restocking, and operational tasks. We still need to get our "Gap Getaway" promotional signs up and make lanyards for today's discounts. There are about 15 people in the store and it's a balancing game making sure that everyone is where they need to be and working. We have 3 hours until we open and then the true fun begins.
10:00 AM
We walk through the plans for the day and expectations around sales and employees. We have almost 1,000 man hours scheduled over the next 36 hours and the store will only be closed for two of those hours. The parade is in full swing outside and everyone working wants to watch so I send everyone on a 15 minute break so we can watch from the window. I need to keep the team as pumped up as possible to make it through the next few days. I send Duamel, one of my seasoned associates, to go pick up the day's food across town at Fairway Market in Chelsea.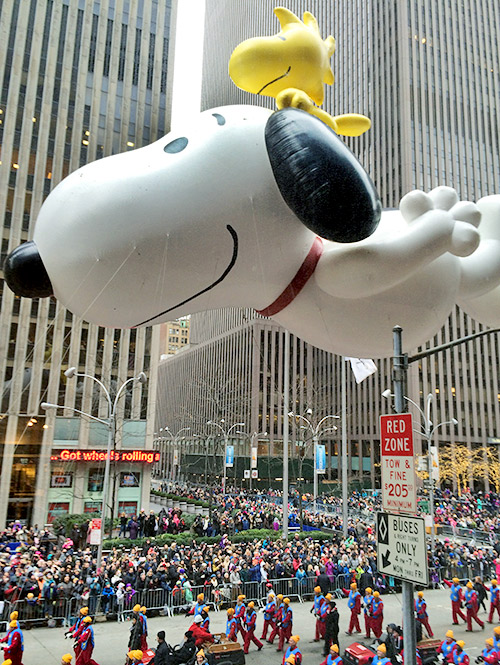 10:30 AM
I get everyone together that is working in the store and we rally around what's going on today. We all huddle around the GapKids cash registers and go through sales goals, events, and the expectations for the day. Just as I finish the rally, Duamel calls and says they don't have our food and have no record of it. My day just got a little harder. I call the credit card company to make sure the order went through and it did. How can we not have food on Thanksgiving for over 50 people!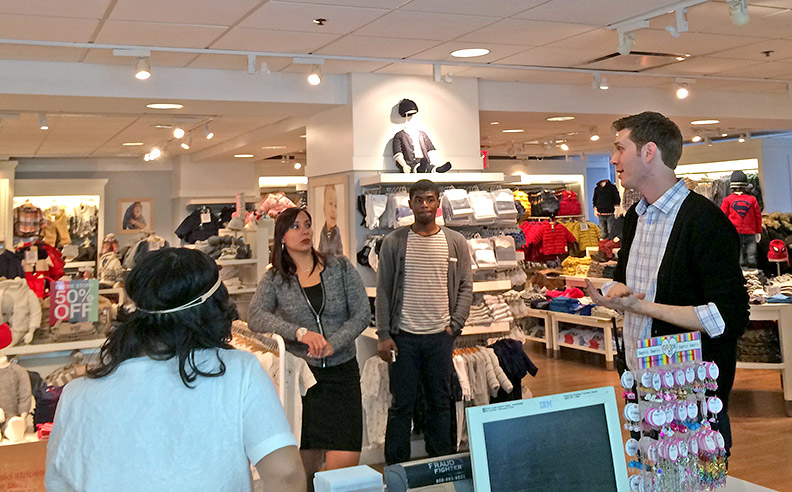 11:00 AM
The parade is almost finished and Santa just went by the store. We open the doors and a rush of customers come in. The first thing they ask....Where's the bathroom? Gotta love parades. Once the doors are open I have Jessica watch the floor so I can figure out what happened with the food. I get on the phone with Duamel and after an hour of back and forth, Fairway finds the order in another store.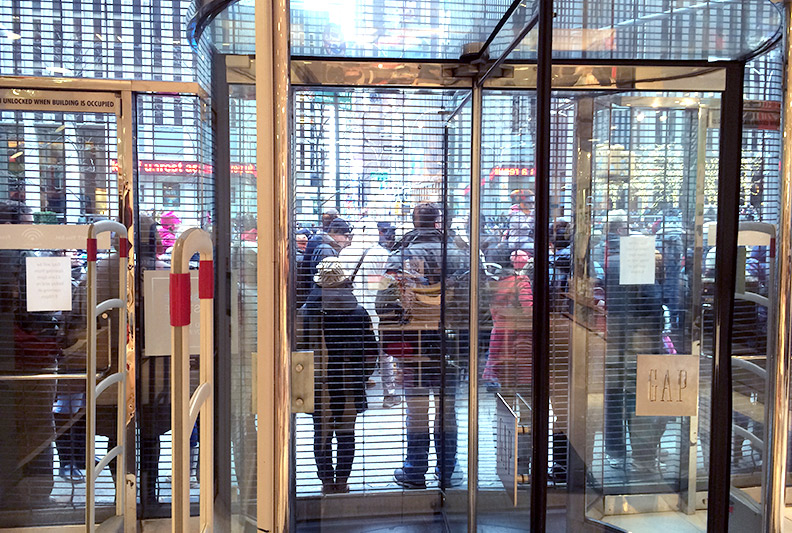 11:30 AM
I take the floor back over from Jessica and "lod" (which stands for Leader on Duty) for the next few hours. Lod'ing consists of circulating the floor, following up with employees, making sure everyone is where they're supposed to be. It's a real workout. I try not to use the elevator and normally walk the three floors. Since I started in the store I have lost 25 pounds.
12:30 PM
Duamel calls and he has the food, but due to parade barricades, he is still 2 blocks away and needs someone to meet him to pick up the food. I pass the floor off to Jessica and head out with 2 carts to help him. It was a sight to behold going done 48th street with 12 feet worth of subs.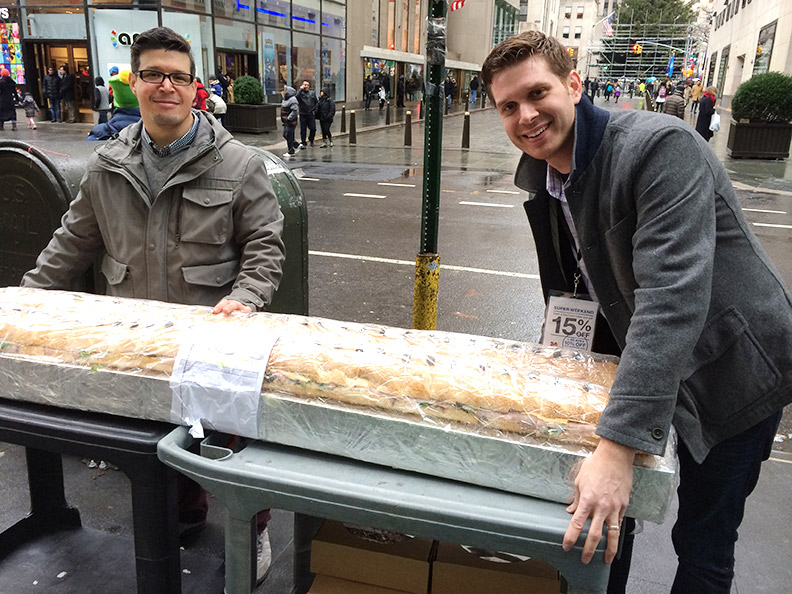 1:00 PM
I take a quick 15 minute break and have lunch with my employees. Sitting in the break room and chatting with everyone makes me realize how truly lucky I am. What an amazing group of people I work with who are genuinely happy to be around each other. This is what makes the job worth it.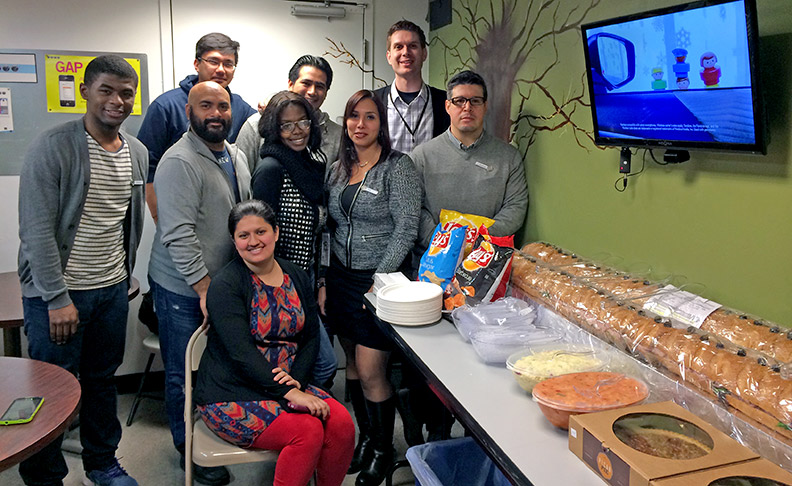 1:15 PM
I sit down and start to go through the schedule for next week as well as double check our Black Friday schedule.
2:30 PM
My wife calls to tell me that she, my son and my in-laws will arrive in the city around 3:30.
3:00 PM
I walk through the store checking with my leaders and team. They are all doing a phenomenal job! I couldn't be more proud of my team and all they have accomplished. A great dry run for Black Friday.
4:00 PM
I do one final check of our Black Friday plans, send out a few emails and hope that all of our planning results in a strong Friday.
5:15 PM
My wife, son and in-laws arrive at the store. My son acts like the Mayor of Gap, talking to everyone and trying to help run the store. We drag him out of the store and head to our dinner reservation, stopping on the way for a street pretzel.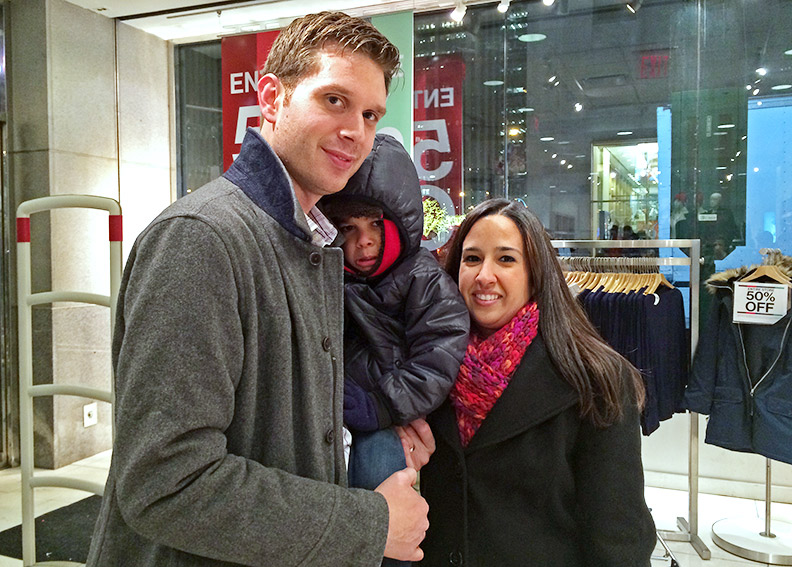 6:00 PM
We arrive at a Brazilian steakhouse near my store for Thanksgiving dinner. Not your typical turkey-day dinner but family is what makes it count!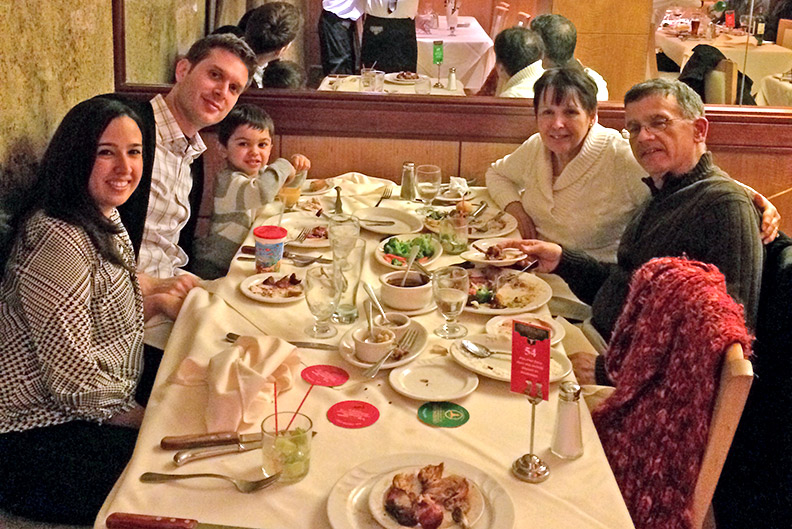 8:00 PM
After finishing dinner, we head back to my store. I pop back in for a quick minute to see how things are going. The store is in good shape and I am again impressed by the team. Tyler ends up with Beth helping her behind the registers. We again drag him from the store and head to our hotel. On the way Tyler talks us into stopping at a toy store since he was such a good boy today. Toys R Us Times Square, here we come.
8:30 PM
As we push through the massive crowds in Times Square, we make it to Toys R Us. Tyler high fives every costumed person he sees and quickly settles on a small Lego train as his reward for having such a good day. However, no trip would be complete without a picture next to T. Rex for Tyler's cousin Aiden.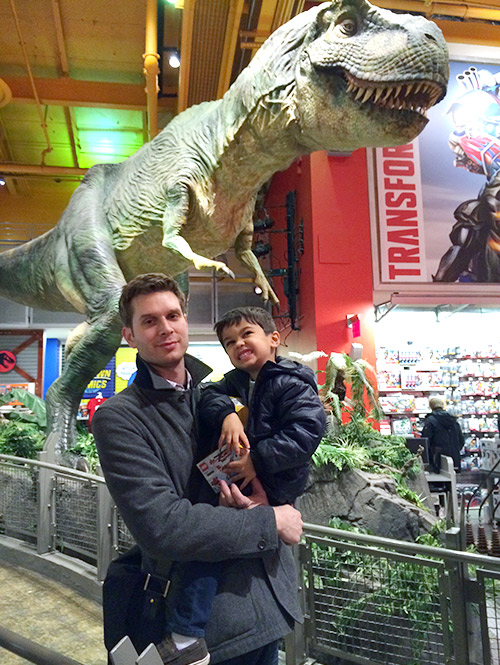 9:30 PM
We arrive at the hotel, and I can't wait for bed. However, I first need to build Tyler's train with him since he is so excited that he can't wait. His words not mine :-). We build his train and all jump into bed watching "Ratatouille."
10:30 PM
The movie is over, and sleep is calling. It's been a long day and tomorrow will be even longer. Reflecting on the day, I'm grateful for so many things. An amazing wife who supports me no matter what, and my son who I can't imagine life without. I'm blessed at home and at work and couldn't be more grateful.