(Business 2.0 Magazine) -- When I first heard about the Hype Machine, an infant Web service that's making noise in the realm of online music, it was breathlessly described to me as "the future of all media."
Normally, I would've dismissed such panting as ... well, a bunch of hype. But since the heavy breather happened to be Gawker Media founder Nick Denton, I figured that the Hype Machine, at the very least, merited further investigation. So I asked Fred Wilson, venture capitalist extraordinaire and inveterate rock and roller, what he thought. "The service," he replied, "is the best thing to happen to music since the Rolling Stones!"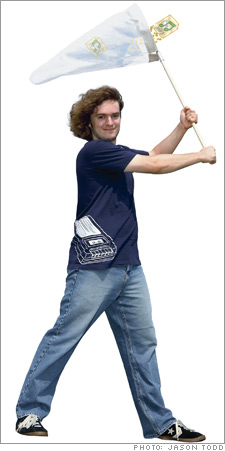 The Hype Machine, I soon discovered, is a one-man band: Its creator and sole proprietor is a 20-year-old Russian immigrant named Anthony Volodkin. The son of a software developer (his dad) and a dentist (his mom) who live in New York's Sheepshead Bay, Volodkin studies computer science at Hunter College - though it's abundantly clear that he isn't a member of the pocket-protector set. When we meet for lunch, he wears shoulder-length hair, baggy shorts, and a red Threadless T-shirt with a piece of steak stenciled on the chest.
There's a little bit of Shawn Fanning in him, along with a touch of Jann Wenner. And while the Hype Machine may never be as famous or influential as Napster or Rolling Stone, Volodkin's baby contains elements of both, updated for the age of blogs - which is why it's so damn interesting.
A voracious music fan with eclectic (from Arthur Lee and Nina Simone to Mogwai and Massive Attack) and often esoteric (Metronomy, Kid Loco, RJD2) tastes, Volodkin started the Hype Machine in mid-2005.
"I kinda felt I hadn't heard anything new that I really enjoyed in a while," he explains. "But then I discovered MP3 blogs like Stereogum and Music for Robots. I couldn't believe there were people spending their time writing about music, putting up tracks so you could hear them. And I thought, there has to be a way to bring this all together."
So Volodkin hacked up the Hype Machine in a bid to do just that.
On the website's front page (hype. non-standard.net) is a list of songs, refreshed every hour, being discussed on any of more than 600 blogs that the service is programmed to monitor. Next to each song are links that send you to the blog post, let you listen to the track, and route you to iTunes or Amazon.com so you can buy the cut.
The last of these is especially important, for reasons both obvious and subtle. For one thing, it provides Volodkin with a revenue stream - er, trickle. (In August, he reports, Hype Machine users bought some 4,400 items on iTunes, with Volodkin getting 5 percent of each sale.) It also reinforces the image that Volodkin wants to foster for the service as nonpiratical. He points out that he's made it impossible to download tracks from the Hype Machine. "I've done a bunch of things to facilitate the selling" - as opposed to the stealing - "of music."
Yet Volodkin is well aware that, for all his efforts and good intentions, his site occupies a legal gray area: Though it doesn't actually host copyrighted material, it points aggressively to sites that do (and caches some tracks itself). And while the record companies have so far chosen not to train their fire on Volodkin, that could be mainly because his user base is still small: The site gets just 30,000 visits a day, he estimates.
Thus does Volodkin live in fear of unhelpful comparisons as his service's reputation spreads. "Someone contacted me from Australian radio who said on the air, 'Kazaa has been shut down, but now someone has taken its space' - and then mentioned my site," he tells me, groaning loudly. "Oh, man!"
The legal uncertainty around the Hype Machine is complicating prospects for turning it into a viable business. The service's natural business model, for example, is advertising - and yet when Volodkin tried using Google's AdSense, ads for sketchy peer-to-peer sites popped up, so he dropped it.
But as buzz around the site builds, the VCs are inquiring anyway. The day before our meeting, Volodkin got a call from a guy at Bessemer Venture Partners; the next week Fred Wilson paid him a visit.
For any media-minded investor, the appeal of Volodkin and the Hype Machine is easy enough to see. Since the rise of Napster, the music industry has been in a prolonged state of upheaval - one that is only growing more chaotic. New tools are being invented (Pandora, Last.fm) for navigating the new digital soundscape. New avenues for promotion (the MP3 blogs) are emerging as star-making vehicles for acts like Arctic Monkeys and Gnarls Barkley. (The summer megahit "Crazy," for example, first showed up on the Hype Machine last October.)
In this context, it's not surprising that the Web is also enabling what Volodkin calls a "new kind of conversation about music."
The old kind, of course, was dominated by magazines such as Rolling Stone. But now those publications seem archaic, antiquated - irrelevant, in a word. (As Volodkin puts it, making me feel like Father Time, "I don't think I've ever looked at a magazine to check out new music; that must've been cool!") And they've left behind a vacuum that the Hype Machine could readily fill.
Wilson maintains that the service might become the "Technorati for music." To me, that seems too modest. With a little imagination and daring, the Hype Machine (or something like it) could evolve into the single indispensable site in the Webified world of music.
As I babble about all this, Volodkin seems mildly embarrassed. Going into humble mode, he observes, "I have another year of school left; there's still plenty of time to play around and see what happens." He's spending this fall studying in London, and then he's planning to apply to graduate school. Listening to him, I wonder whether he actually has the startup fire burning in his Russian belly. So in an effort to gauge his ego, I ask how he feels about the attention he's receiving.
"There was one blog post," he replies, "that said, 'Prepare to click on something that will change your life.' And I thought, Wow, I would've never written something like that myself - but that's so cool!"
My bet is he'll be funded before he graduates - possibly before Christmas.
John Heilemann wrote "Pride Before the Fall." His next book is "The Valley." He lives in Brooklyn.

To send a letter to the editor about this story,
click here
.