(Business 2.0) -- Breaking the iPod's stranglehold on the digital-music business would be no mean feat. Apple's supremely simple device has 72 percent of the $21 billion market, and even Microsoft failed to make a dent. But what if there were an MP3 player that was even easier to use? That's what we could get in June with the launch of the Slacker, a music player that automatically delivers tunes to you. All you have to do is decide whether or not you like them.
The Slacker is made by a San Diego startup of the same name, founded three years ago and led by the former CEOs of three of Apple's (Charts, Fortune 500) digital-music rivals: iRiver (Jonathan Sasse), Musicmatch (Dennis Mudd) and Rio (Jim Cady). The first part of its service, 100 customizable Internet radio stations, launched in March. It's from these stations that the device will download songs over Wi-Fi networks or satellite radio (with an optional car adapter).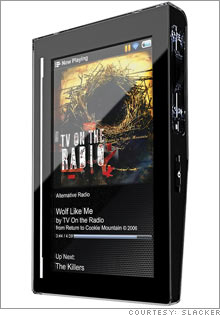 The cheapest Slacker, with a 2-gigabyte flash drive, will cost $150; the largest, expected to have about 12GB, will be $400. The Slacker service comes free with banner ads or costs $7.50 a month without. When listening to a song, a user can press the "Love It" button to get more songs like it or the "Ban It" button to never hear it or its ilk again.
Paying subscribers get to keep songs they like for as long as they want. And that's about all the functionality Slacker says it needs. "Most MP3 players are too much work for the average user," Sasse says. "They don't want to bother updating their players via a USB connection. Our devices will just feed themselves."
If the former CEOs have gleaned one thing from their experience - and from Microsoft's (Charts, Fortune 500) ill-fated Zune - it's that there's no point in trying to imitate the market leader. "One of the reasons other music players failed is that they were too similar to the iPod," says James McQuivey, a principal analyst at Forrester Research. "Slacker could change the way people listen to music." If the majority of music fans prefer to be passive, Slacker may be on the right track.
Do you think the Slacker will catch on? Would you buy one? Let us know. Write to the B2 editors and tell us what you think.

click here
.