(Business 2.0) -- Who will cash in when Hollywood goes digital? The studios are racing to serve a public that's hungry - and willing to pay - for high-quality video delivered on demand. The retailers want their share too; witness Amazon.com, Apple and Netflix jockeying to position themselves as America's favorite online download store.
And then there's Hewlett-Packard.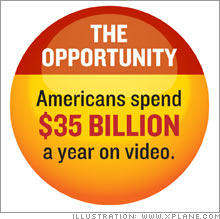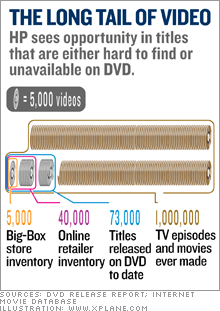 The tech giant best known for calculators, printers and PCs isn't exactly storming the entertainment establishment. But behind the scenes, HP executives have been quietly cozying up to Hollywood moguls and treating them the way they would any big clients: working hard to understand the nature of their problem and then crafting engineering solutions that tap into HP's strengths.
The quiet approach could be on the verge of paying off.
HP (Charts, Fortune 500) has developed two new services: a digital platform for managing Hollywood's massive archives of old movies and TV shows, and a Web service that helps retailers sell digital video. If these efforts catch on as HP hopes, the company could play a leading role in the transformation of the entertainment industry - and rake in a few billion dollars along the way.
HP's first target is the $35 billion that Americans spend each year on video. The company believes that if it can help retailers like Wal-Mart (Charts, Fortune 500) sell downloads and discs of titles that shoppers can't find on the shelves, it could siphon off a sizable portion of that revenue stream. Its ultimate goal, however, is to get its hands on the hermetically sealed vaults where more than 100 years of entertainment history is stored.
A visit to the new enterprise's ground zero, a secret warehouse 20 miles outside Sacramento, reveals what HP is up to. Here, the project's engineers are fine-tuning a new type of custom manufacturing shop. On one side of the warrenlike space is a bank of quietly humming servers and row after row of DVD burners. On the other side, separated by glass walls, industrial-strength HP printers are cranking out prototypes of DVD cover art, packaging and labels.
When it's up and running, the facility will be able to process an order, burn a DVD, print a label and prepare a package for shipping to 85 percent of U.S. households in a matter of hours. Order a movie through this facility and you could get a brand-new DVD in the mail within 24 hours.
How is this different from Netflix (Charts) or Blockbuster (Charts, Fortune 500)? HP is offering a classic long-tail service. Anybody can deliver one of the most popular movies or TV shows. The trick is to deliver the hundreds of thousands of titles that weren't big hits. HP has built a facility that could supply a DVD of any movie or TV show ever made, no matter how obscure.
What if you just had to see, for example, "No Escape," a campy 1994 scifi/prison-flick mashup starring Ray Liotta? It's a four-week wait on Amazon (Charts, Fortune 500) and possibly longer on Netflix. If you want to watch "Misfits of Science," a short-lived mid-1980s TV series starring Courteney Cox Arquette, you have to take your chances on eBay (Charts, Fortune 500).
Though nearly 1 million movies and TV episodes have been made worldwide to date, there are only 73,000 DVD titles, not including multiple editions. Online retailers carry only half of those discs, and the typical brick-and-mortar store stocks at most a few thousand.
Sure, a lot of impossible-to-find movies are stinkers. But there are plenty of hidden gems in there, and even stinkers have their fans. To get a sense of the possibilities, consider that the opening sequence for the seventh season of "Diff'rent Strokes" has been viewed more than 26,000 times since it appeared on YouTube nine months ago. Good luck finding it on DVD. The demand just doesn't justify the cost of pressing and marketing the disc.
At least, it didn't until now.
"We're quite optimistic. There's a bottomless supply of content that consumers would enjoy being able to find," says Kevin Swint, Wal-Mart's divisional merchandise manager for digital media. Through HP's on-demand DVD-burning system, which could be available as early as this summer at Walmart.com, customers might eventually order up custom DVDs with their favorite episodes packaged together. "The key," Swint says, "is to build a Web site that has search and discovery tools that can bring this to the surface very easily."
The Wal-Mart site that HP built isn't quite there yet. The navigation is sluggish, there's little niche content, and if you use a Mac, you're out of luck. But none of that worries Vyomesh Joshi, executive vice president for HP's imaging and printing group and the man responsible for making sure the video strategy plays out. The way he sees it, video is a logical next step for his group's technology - and a key opportunity for growth. "We are in a content-consumption business," he says, "and we see this industry is going through a radical change."
Joshi picked this bet carefully, and he's prepared for it to take years to play out, just as ink-jets did. Five years ago Joshi penned a white paper about how growth in the most profitable part of HP's empire, the imaging and printing business that brings in more than $25 billion a year, was doomed to slow as the ink-jet market matured. This was the time to find major new opportunities, he wrote, and the seeds of the next one were in Bristol, England.
In 2000, HP engineers in a Bristol lab were trying to digitally restore the original "King Kong" for Warner Bros. and running into trouble. Their biggest servers were crashing under the load of raw video files that often topped 250 gigabytes each. They needed a whole new platform to handle digital media, and what they built became the system at the heart of HP's DVD-on-demand store. It's also the platform on which Joshi plans to build a business that makes money on movie titles the way HP now makes money selling high-margin printer ink. "There's a tremendous opportunity for long-tail content," Joshi says.
Willem de Zoete, HP vice president and general manager of digital entertainment services, puts a finer point on it. "HP is not a niche player. We move into an area if it's a major opportunity," he says. How big is this one? He has his eye on that $35 billion Americans spend each year on DVD sales and rentals, downloads and other video purchases. "If we only have 5 or 10 percent of that," he says, "we won't be totally satisfied."
Which brings us to Hollywood's film archives. Today the master tapes of each studio's backlist sit in secure, climate-controlled cavernous vaults - and it takes a stack of paperwork, a librarian and often a ladder to pull one out when it's time for a show or movie to appear in a new format. Want to release on DVD? That's a trip to the vault. Cable? Vault again. Video-on-demand? Vault. iTunes? You get the idea. "As much as it's considered a creative business, Hollywood is very resistant to change," says Curt Marvis, CEO of online movie download store CinemaNow, which has spent the past eight years cutting deals with studios.
But unless the antiquated vault system changes, HP's ambitious long-tail strategy is sure to fail. Physically pulling those episodes of Diff'rent Strokes out of the vault is not much of an option. And that has led to the second piece of HP's plan: In partnership with media management company Ascent Media, it's building the back-end systems that run Hollywood's new archive and signing up as many studios as possible to use it.
But HP is not Hollywood's only suitor. Cinegy, Front Porch Digital, North Plains Systems and Siemens Business Services all provide similar services to broadcasters, and many are eyeing the movie business. On the server side, IBM already has relationships with Fox and the BBC, and Sun Microsystems is trying to get into the game.
"There's a battle of the titans now over how digital media will be distributed," says Mark Kirstein, vice president for multimedia content and services at research firm iSuppli. "There are a lot of players already, and there are going to be a lot more."
HP thinks it has an edge, working both the back end with studios and the front end with retailers, and so far its plan seems to be working. Sony and Paramount already use digital archive services based on HP technology, and Warner Bros. is working with HP to develop its own system. The big test will come when HP's DVD-on-demand service premieres this summer. If HP can work out the kinks in the Wal-Mart Web site and change the way consumers buy video entertainment before its competitors catch on, maybe it really can engineer Hollywood's transformation - and secure HP's place in our digital future.
Do you think digitizing Hollywood archives is a good idea? Let us know. Send a letter to the editors.

click here
.