(Business 2.0 Magazine) -- For an ad agency that once accidentally set Michael Jackson's hair on fire while shooting a TV commercial, this was pretty low-key stuff.
In a conference room at its New York headquarters, BBDO recently unveiled its latest creative effort on behalf of client General Electric (Charts, Fortune 500): four short, whimsical films, each lasting a few minutes.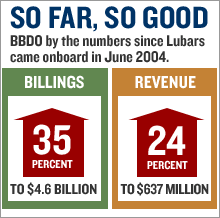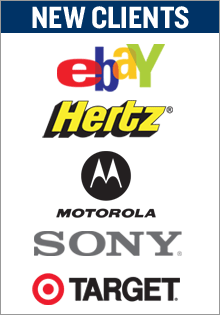 No celebrities, no slick Hollywood direction, no jingles -- no sales pitch at all. The films looked like shorts at an indie film festival, or something you'd stumble across on YouTube. And they were designed to run only on a video-on-demand cable channel and the GE website, meaning they'd be viewed by a tiny fraction of the audience that sees a typical prime-time commercial.
But that didn't stop GE ad director Judy Hu from beaming proudly during the screening. Nor did it faze David Lubars, BBDO's chairman and chief creative director for North America, who stood and introduced the films with a boast that could also be seen as a concession of sorts: "This is the new BBDO," Lubars told the gathering. "There is no medium we don't perform in."
This is what things have come to on Madison Avenue: big agencies and their bigger clients trying their best to play "small ball," as million-dollar commercials give way to modest "content" made on shoestring budgets. It's a whole new game, with other big ad agencies, including JWT (Charts) and Ogilvy & Mather, scrambling to adapt too. But no one is trying harder to reinvent itself than BBDO.
Known for decades as the swaggering king of the blockbuster commercial, BBDO was turned upside down in mid-2004 -- when, in a moment of TiVo-inspired panic, top management ousted much of its established New York leadership and brought in Lubars, the brash new creative talent. At his direction, BBDO began making hip-hop webisodes, pulling funky films off YouTube and turning them into ads, making billboards that responded to text-messaging, and thoroughly confusing New Yorkers by filling their streets with giant office supplies. (We'll explain later.)
It has all been very unorthodox and decidedly non-BBDO-ish. Yet it seems to have made the agency even more attractive to clients trying to navigate a strange and bewildering new-media landscape.
Since Lubars arrived and the agency declared itself reborn, new clients have poured in: eBay (Charts, Fortune 500), Hertz, Mitsubishi, Motorola (Charts, Fortune 500), Sony, Target (Charts, Fortune 500), and others, joining a blue-chip roster that already included Chrysler, FedEx (Charts, Fortune 500), GE, and PepsiCo (Charts, Fortune 500). More important, agency billings have jumped 35 percent to $4.6 billion, and revenue is up 24 percent to $637 million.
But in an ad market that seems to grow more uncertain and chaotic by the minute, BBDO hasn't yet proven that a big agency can survive in a small-media world. Doug Cameron of the up-and-coming Amalgamated agency, one of the growing number of smaller players poaching on Madison Avenue's turf, observes that giants like BBDO "have been around since the radio days and still have the initials of the dead founders on the door. Yet they're trying to convince people they're going to lead the way in the era of YouTube. I don't envy them that challenge."
If Lubars, now 48, is at all ruffled by the tall task facing him at BBDO, it's difficult to tell the difference. He always has the look of someone who's just rolled out of bed: slightly unkempt with a nonchalant expression, though he talks rapid-fire as befits a Brooklyn native.
He seems to have the attention span of a gnat -- or maybe a 21st-century consumer. "He has this whole ADD thing going on, where he constantly jumps from one thing to the next," says Bruce Bildsten, who worked as a creative director with Lubars at the Minneapolis ad agency Fallon.
On a recent afternoon, as he and several collaborators prepped for a high-stakes new business pitch, Lubars was so relaxed that he draped his knees over the arm of his oversize easy chair and lay on his back facing the ceiling, like a baby in a cradle. His partners peppered him with ideas. One he liked because of its "strange weirdness"; another he wasn't sure about.
"Why not?" one of his creative lieutenants inquired. Lubars's answer: "I just feel it might ... suck a little bit."
Suffice it to say that's not how business has been done -- ever -- at this storied agency, which was formed in 1928 by a merger that united admen named Batten, Barton, Durstine, and Osborn. (Comedian Fred Allen once quipped that the four combined names sounded like a trunk tumbling down a flight of stairs.)
Always considered highly creative, BBDO was never known for its subtlety. Forty years ago the agency drove millions of TV viewers a little mad with its "Ring Around the Collar" jingle for Wisk detergent.
By the '80s and '90s, its specialty was churning out glitzy award-winning commercials for Pepsi and other big clients. BBDO, a division of the $11.4 billion holding company Omnicom (Charts, Fortune 500), was adland's version of a Hollywood studio, with the attendant egos and infighting.
Agency veteran Bill Bruce recalls, "People said about BBDO back then, they don't stab you in the back -- they stab you right in front." Presiding over it all was creative director Ted Sann and a handful of other veterans who had turned making commercials into an enviable formula: Sign a big star (after Jackson, it was Madonna, then Britney, then Beyoncť), bring in top ad director Joe Pytka to shoot it, book the best prime-time or Super Bowl slots, and then count the money.
But when the ad world began to question the future of the 30-second commercial, BBDO found itself behind the curve. In mid-2004, Allen Rosenshine, chairman and CEO of BBDO Worldwide, decided to install Andrew Robertson, a 40-ish wunderkind who'd shot to the top at BBDO's U.K. office, as the new CEO in New York.
Robertson's mandate was to modernize the New York flagship. "BBDO needed to refocus," Robertson says. Its emphasis on buying and filling prime-time slots was becoming outdated because, according to Robertson, "in the digital era, you can't just buy people's attention anymore. You must engage them." To do that, Robertson says, he needed a forward-thinking creative partner. "And I wanted David Lubars to be that partner."
Lubars had done a short stint in the early 1990s as a creative director of BBDO's West Coast office. But he was best known for his work at Fallon, where in 2001 he helped create a series of short Web films for BMW. Called "The Hire," the series was hailed as a model of "branded content": It wove cinematic stories around the car-as-star and drew high traffic to BMW's website. Thanks in part to "The Hire," Lubars was seen as a cutting-edge creative director.
When Robertson approached him, Lubars saw it as a challenge: "I felt, if you can go into the bowels of a huge New York agency and help it change," he says, "that can be historic shit." He took the job -- and then all hell broke loose at Hollywood East.
Sann, the incumbent creative director, was blindsided. "He came back from a big Pepsi meeting and got whacked," says Tom Hollerbach, a former BBDO executive. The aftershocks were felt throughout the ad business, especially when, a few months later, Sann's longtime working partners at Pepsi seemed to retaliate against BBDO by pulling a $33 million chunk of Diet Pepsi advertising from the agency.
While Pepsi executives insisted the move was strictly business, the ad trade publications saw it differently: "It was personal," Ad Age declared.
But in came the frenetic Lubars, on a mission to get BBDO's creative staffers, many in their 40s and 50s, to think outside the traditional channels. He kept pushing them to look for, in his words, "ideas that are the most horizontal" --meaning concepts that can work on TV, in print, on the Web, maybe even on a street corner. This was a rude awakening for ad people trained to think of 30-second TV skits; they had to cast a wider net for ideas and learn to work in unfamiliar media formats.
Many were shaken by Sann's firing. "The feeling was that if you could get rid of Ted, then no one was safe," one insider recalls.
Lubars played it smart, gradually transitioning himself during the first few months, shuttling between his old agency and the new one. "The most calming thing David did was to slowly adjust the agency rather than whacking through the halls right away," says Susan Credle, one of BBDO's executive creative directors.
Lubars also tried to keep things light and breezy: He rented school buses and a mid-town movie theater one day and took the gang to a showing of Team America. He also removed Sann's office door and replaced it with a glass one ("a very symbolic gesture," says one BBDO staffer). And he roamed the halls and talked to everyone -- another contrast to Sann, who'd tended to keep to his inner circle.
But during those early months, Lubars wasn't just making nice; he was taking stock. "I saw people here who were anxious for change and were just waiting to be liberated from the old way of doing things," he says. "But there were also people who made it clear they weren't going to buy into change, or that they couldn't change."
In early 2005, the other shoe dropped: Lubars laid off 17 creatives, including longtime veterans. One source close to the agency describes the cuts as "particularly brutal, because it involved people who'd been loyal to BBDO for years."
The layoffs were softened by generous payouts, though in exchange the departed had to keep quiet and sign noncompete agreements; several high-profile staffers vanished overnight from the business. Some of them, including Sann, who were contacted for this article would not comment. A few clients known to be loyal to Sann, including Visa and Doritos, also abandoned BBDO in the aftermath.
Despite the turmoil, Lubars wound up keeping more than 80 percent of the department, and he promoted soft-spoken veteran Bill Bruce to be his chief creative officer. He filled the gaps by bringing in a wave of new talent, some from smaller creative agencies outside New York, such as Fallon and Portland's Wieden & Kennedy (famous for Nike's "Just Do It" ads).
The agency also beefed up its interactive arm, created a new in-house design group, and modernized its consumer research department.
It took a while for the changes to show up in BBDO's ads; during his first year and a half, Lubars was busy restructuring, melding the old and new people, and getting pulled into new-business pitches. Meanwhile, existing clients waited anxiously to see if Lubars would live up to the hype. GE's Hu says, "He came in telling us, 'We're going to help you find great new ways of communicating,' and my reaction was 'OK, show me the money.' Then he came back with 'One Second Theater.' It was different from anything I'd seen before."
Lubars's idea was to take on TiVo by co-opting it. The agency made a series of commercials that had embedded images -- advertising Easter eggs, if you will --squeezed into a single one-second frame of each commercial. These images could be seen only by freezing the ad on a TiVo or other DVR and then advancing, frame by frame, through the embedded material (which consisted of pictures and text, a kind of slide show tucked inside a commercial).
BBDO hyped the ads at the start of the program so viewers would know to look for the bonus material, which, in the case of one ad, told the humorous behind-the-scenes story of the ad's main character, Elli the elephant.
Hu was thrilled with the campaign because it encouraged viewers to engage with GE's ads instead of ignoring or zapping them. In fact, viewers spent an average of three times longer with the enhanced commercials. In the past year, other advertisers have begun to embed material in their ads too, but "One Second Theater," which debuted in May 2006, was at the fore-front. (A second wave of the commercials began airing in February of this year.)
"BBDO is nimble even though it's big," Hu says. "I feel like I'm working with a creative hot shop."
The agency had similar success last year with a series of four-minute webisodes produced for Snickers that blended elements of comic books, videogames, and movies and drew an average of 12,000 unique visitors a day to the Snickers homepage.
By December, BBDO was moving heavily into user-generated content. For the Mountain Dew spinoff drink MDX, the agency got the rights to a couple of wildly popular homemade Web films on YouTube, then reedited the videos by inserting the agency's own brain-teasing twist. And Lubars gave good old M&M's candy a digital makeover by enabling website visitors to create M&M's characters in their own likeness. That, too, proved to be a hit, generating a flood of traffic.
Lubars has also been injecting fresh energy into that most staid of advertising platforms, the billboard, by making it more interactive. One, for BBC America, accepted cell-phone text messages from passersby, who could vote on -- and actually change -- the content on the billboard.
BBDO also suspended magician David Blaine in midair in Times Square to promote Target's annual two-day sale last fall. And to call attention to the merger of FedEx and Kinko's, the agency planted giant, lifelike facsimiles of office supplies on the streets of Manhattan and other cities. Stunts like these, Lubars argues, can generate outsize bang for the buck; in an age of cell-phone cameras and YouTube uploads, a compelling outdoor gimmick will be photographed, posted online, and shared.
All of this is just the beginning of where Lubars wants to take BBDO's advertising. The agency is helping to redesign a clothing line for one client and getting ready to debut a prime-time network television series this summer for another. When Lubars talks about the wide-open possibilities of life beyond TV, he can sound like a kid in a candy shop -- he has so many options now, he almost doesn't know which to choose.
Making little Web films and orchestrating sidewalk stunts may be what marketers need these days. But small ball is in some ways a step down for the big agencies. It's not as glamorous as making star-studded commercials, and it doesn't seem likely to be as lucrative.
For one thing, it invites more competition from all sides, and especially from below. Anyone can play in this game, right down to a teenager with a webcam. As the industry moves away from slick, big-budget commercials, it opens the door for homemade ads by consumers (who helped make commercials for several of this year's Super Bowl advertisers, including one BBDO client).
And it levels the field for "all those small agencies that are eating more and more of the big agencies' lunch," says Joseph Jaffe, president of the marketing firm Crayon and author of Life After the 30-Second Spot.
Clients increasingly have been turning over experimental ad projects and new-media ventures to creative boutiques, interactive-only shops, and guerrilla-marketing specialists like New York-based Interference, which was behind the disastrous light-box stunt for Cartoon Network in February. "The real threat to the big agencies," says Emily Riley, an advertising analyst at Jupiter-Research, "is from smaller, specialized, and highly creative agencies that tend to be on top of trends and are good at interacting with consumers."
Even BBDO's oldest, most faithful clients recognize they have more alternatives now. For decades Pepsi's marketing focused on big-budget commercials made by BBDO, but its newest brand campaign, unveiled early this year, downplays big commercials in favor of custom-designed soda cans, consumer-created billboards, and a passel of funky websites.
Lubars would love to tackle all of this, but Pepsi has turned to outside design and Web specialists for much of the work. Meanwhile, GE, which has praised Lubars's new-media acumen, isn't putting all its eggs in his basket either; Hu employs a handful of small interactive agencies alongside BBDO because, she says, "in the new-media environment, ideas come from all over, and you want to be able to take advantage of that."
Heightened competition isn't the only problem. Small ball may well translate into a downsized bottom line.
Clients, of course, are eager to scale back on the exorbitant costs of TV commercials in heavy rotation. But those big-media billings were the lifeblood of the big agencies. In its commercial-making heyday, BBDO took a 15 percent commission based on the cost of airing commercials; if the agency had a dozen spots on the Super Bowl, as it did in Sann's time, BBDO could net several million dollars in one afternoon -- and would make millions more for as long as the commercials ran on TV.
Now the agency, like everybody else in advertising, gets paid a relatively flat fee for its creations, based on a complex formula that includes costs, labor, and various negotiable built-in incentives. To make up for the loss of the old 15 percent premium, Robertson and Lubars are lobbying clients to tie their compensation directly to a campaign's performance and sales results.
Robertson says he'd like to be paid based on, say, the amount of time consumers spend with BBDO-generated content, and he wouldn't mind getting an ownership stake in that content either. "I see us moving in that direction," he says. But it's a battle that BBDO and others have yet to win, and it could ultimately determine whether shrunken advertising is financially feasible for big agencies.
For the time being, however, Lubars's arrival has buoyed the agency's fortunes, primarily because he's helped to lure in so many curious new clients. Indeed, with the makeover, BBDO seems to have done for itself precisely what it did for so many clients' brands through the years: hired a fresh face, made a compelling pitch, and gotten people to sample the new, improved version.
Warren Berger is a New York-based freelance writer.

To send a letter to the editor about this story,
click here
.