(Business 2.0 Magazine) -- Plenty of companies use the Internet to push their products at high schoolers, but few have made money by educating them there.
That may soon change, thanks to a for-profit company called Insight Schools, which has just wrapped up its first year of online-only secondary education and is preparing to double its virtual enrollment to 1,200 students when classes start up again in the fall.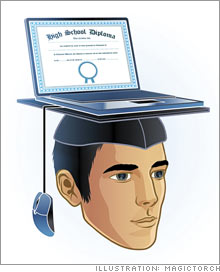 Insight, based in Portland, Ore., launched its first program in the state of Washington under the auspices of the Quillayute Valley School District, educating 600 students last year with an entirely digital curriculum.
Its original plans called for an enrollment of 200, but it decided to triple the size of its initial student body after being deluged with 3,000 applications. Insight receives nearly $4,500 per student per year via the district -- money it says it can use more efficiently than a brick-and-mortar high school.
After all, says Insight founder Keith Oelrich, "we don't need to pay for classroom maintenance or janitors."
In January, Insight was snapped up by the Apollo Group (Charts), the $2.5 billion parent company of the University of Phoenix, for an undisclosed sum.
Now Oelrich has approval to open offices in Southern California and Wisconsin. Assuming that more states get in line, there appears to be a sizable market: A March 2006 study by the Bill and Melinda Gates Foundation reports that 5 million high school-age students in the United States aren't enrolled in classes; about 80 percent of them dropped out not because of disinterest but to earn money or provide care for a family member.
Another opportunity: creating interactive coursework and programs that can hold the attention of the MySpace generation. "As more of these schools open up and more students enroll," Oelrich says, "we'll need more online content to teach them with."

click here
.