(Business 2.0 Magazine) -- Since Google made its maps available for customization last year, savvy programmers have created thriving businesses by adding layers of information.
One example: Hotel World Map. (See correction)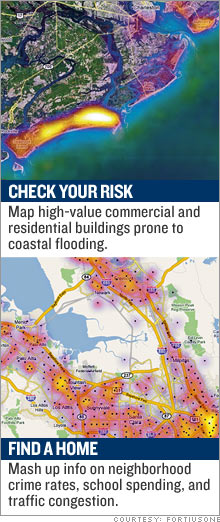 But making these so-called map mashups has been beyond the reach of the average user.
So in May, Washington-based startup FortiusOne launched GeoCommons, a cartographic portal where users can easily create their own mashups.
The site has 2 billion pieces of localized data -- from census figures and school district budgets to water-contamination and traffic-congestion hot spots -- and it is rapidly adding more.
"We've spent a lot of time making the maps and data easy for nontechnical folks to use," says FortiusOne CEO Sean Gorman. "This is really the second generation of map mashups."
Gorman's company is already turning a profit from selling geospatial data to U.S. government agencies.
FortiusOne has done geographic risk analyses for the Department of Homeland Security, which is interested in using GeoCommons to share data in the event of a terrorist attack or natural disaster.
The 14-person company is also selling geodata to real estate companies and environmental groups. It expects to hit $2.5 million in revenue this year.
But Gorman isn't content with simply providing customized maps to the public and private sectors. He wants to grow GeoCommons into a vast social network and make more money selling ads against it.
"It's all about using geographical data to solve problems or tell a story," he says. On the Web, where you are is fast becoming where it's at.
Correction: An earlier version of this story incorrectly stated that real estate site Zillow uses Google technology to create map mashups. Zillow uses its own mapping platform. (Return to story)

To send a letter to the editor about this story,
click here
.