(Business 2.0 Magazine) -- Online shopping recommendations are the Internet's answer to the old-fashioned upsell. "You like that red Prada hobo bag? You'll love this black canvas number from Dolce & Gabbana."
And apparently they work. Consumers last year spent $220 billion online, according to Forrester Research analyst Sucharita Mulpuru, who estimates that recommendation systems can account for 10 to 30 percent of an online retailer's sales.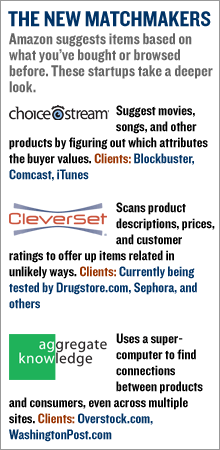 Business 2.0's Erick Schonfeld takes a behind the scenes tour of a new technology that allows users to print things in three dimensions.
Play video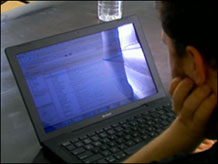 Why does Business 2.0 Magazine identify Revision3 as a startup to watch? Its popular online show, 'Diggnation,' says it all.
Play video

This, naturally, suggests that there's yet more money to be made by offering even better product suggestions. Amazon.com (Charts, Fortune 500) popularized the practice a decade ago with a system that suggested items to customers based on what they and others like them had previously bought -- or even just window-shopped for.
As online shopping scales up, however, the limitations of Amazon's approach are starting to become all too apparent. One reporter who purchased two backyard animal books as a gift -- the only books on the topic he's ever bought -- complains that three years later Amazon is still recommending that he buy Squirrel Wars: Backyard Wildlife Battles & How to Win Them.
Amazon CEO Jeff Bezos says he is not exactly sure why this happened but views personalized recommendations as a "key differentiating factor" for his company. Amazon's engineers are constantly working to make the system better, he says. "If we have 66 million different customers, we want to have 66 million different stores."
But even as Bezos fine-tunes his existing system, several new companies are determined to beat him at his own game. Moreover, they have already started to hire out their sophisticated sales tools to other online retailers.
ChoiceStream is one of the largest newcomers, with more than $10 million in revenue. But scrappy startups like Aggregate Knowledge and CleverSet are also gaining customers. All three are focused on "discovery" -- selling people goods they didn't know they wanted. And all three work on the premise that you need more than a customer's old shopping list to get him to buy new stuff.
Take CleverSet, currently being tested by big-name retailers like Drugstore.com, Sephora, and WineEnthusiast.com.
CleverSet's engine analyzes consumer purchases by product descriptions, prices, ratings, and dozens of other attributes. The software organizes the information into a relational database and then offers products with similar attributes, even if they're not big sellers. Buy a book about camping in Alaska, for instance, and it might suggest a subzero sleeping bag.
CleverSet also tracks how visitors click through a site and makes educated guesses about whether they're browsing, researching, or buying -- knowledge it uses to close the sale. So far, the techniques seem to be paying off: CleverSet CEO Todd Humphrey claims that the 75 online retailers using his engine are averaging a 22 percent increase in revenue per visitor.
ChoiceStream uses a similar approach, especially for movies, music, and the like. The company has painstakingly categorized 40,000 films by more than 50 attributes; these allow its system to match movies by genre, actors, plot type, and more.
For instance, if you like the movie Babel, it might suggest that you check out Do the Right Thing. At first glance, the Brad Pitt vehicle set in Morocco and the Spike Lee movie set in Brooklyn might not seem to have much in common. But ChoiceStream's engine knows that both are complex, unpredictable, suspenseful, and based on sociopolitical themes; each plot is heavy on character transformation and delivers a twist.
That matchmaking logic can help lead viewers to niche titles they otherwise wouldn't have considered, something that's helped Blockbuster (Charts, Fortune 500) compete with Netflix (Charts) in online DVD rentals. Since Blockbuster adopted ChoiceStream, cancellation rates have fallen and subscribers have nearly doubled the number of movies on their order lists.
"We think the technology is more accurate than anything we have looked at," says Shane Evangelist, general manager of Blockbuster Online.
The discovery market has turned out to be lucrative; many industry insiders think it will eventually be as important as basic search. "Discovery is when you don't know what you are looking for to start, but you know it when you see it," says Paul Martino, CEO of Aggregate Knowledge, which is backed by $25 million from Kleiner Perkins Caufield & Byers and DAG Ventures.
Aggregate Knowledge soon will offer cross-site recommendations. Searching a newspaper site for stories about the Valerie Plame CIA leak, for example, can lead you to a site devoted to the old TV series MASH, a send-up of bumbling buffoonery perpetrated in the name of national defense.
In the fall, Martino plans to launch a discovery network that will make connections between online media consumption and online buying. "We can make use of your news browsing to make better product recommendations," he says.
If that blurs the line between recommendations and advertising, that's fine with Martino. It's one of the ways he plans to make money from the service; product suggestions will become highly targeted ads that consumers will discover without ever typing a search term.
Erick Schonfeld is an editor-at-large at Business 2.0.

click here
.