(Business 2.0 Magazine) -- Rod Dubitsky sits under an umbrella at a roadside restaurant near the center of Kigali, munching on a plate of cooked bananas, stewed goat, and roasted beans. If the 43-year-old Wall Street bond analyst from Hoboken, N.J., feels a little out of place on his first trip to Rwanda, the feeling doesn't last more than a couple of minutes.
An attractive white woman walks up to the table and, with a distinct French accent, introduces herself, explaining that she's scouting locations and talent for an upcoming movie. "I'm from Paris," she says. "We film genocide movie this summer. I am casting. I want you. I need white men."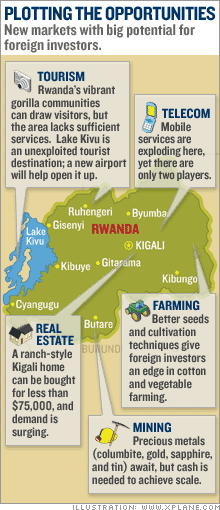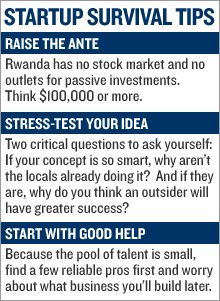 Dubitsky drops his fork and laughs, recalling that one of the reasons he's in Kigali, Rwanda's capital, is because he saw Hotel Rwanda, the Oscar-nominated film about a hotel manager who saved his guests from slaughter during the 1994 genocide. Dubitsky is even staying at Mille Collines, the luxury hotel that inspired the film.
The woman apologizes for not having a business card and hands Dubitsky a flier describing the film. He looks at her ruefully. "I'm too busy for a movie," he says. "I'm here to invest in Rwanda."
Dubitsky isn't joking, and he's not alone. A growing number of Americans, South Africans, and other foreign businesspeople are investing in the country's rebuilding, taking obligatory trips to genocide memorials (Dubitsky went to three), dodging casting agents, and assessing the prospects for financing and running profitable ventures.
Rwanda is home to one of the most hopeful, if little noticed, transformations in the bottom-line world of business. An African killing field, roughly the size of Vermont, turning into a mecca for venture capitalists?
"In Africa, the smart investors go places where no one else wants to go," says Chris Lundh, a Californian who arrived in December to run RwandaTel, the country's largest telephone company and Internet supplier. "There's less competition, and you can do very well." The country's reform-minded government is also one of the continent's most stable and least corrupt. That logic is what drew Dubitsky to travel here on his own dime to scout for new prospects. While he favors investment over aid, he admits, "sympathy is part of the equation. Rwandans deserve help."
They are getting plenty, courtesy of well-heeled Yanks who spy profit possibilities in helping to rebuild a landlocked country of about 8 million people - one of the poorest and most densely populated in the world. The genocide of 1994 took the lives of nearly 1 million Rwandans. Much of the killing might have been avoided if other countries had intervened. President Clinton has apologized for the failure of the American government to do so.
Whether driven by profit, conscience, or a combination, Americans are looking for first-mover advantage. Even Google (Charts, Fortune 500) is eyeing the possibilities. In the spring, seven of its employees canvassed the country, pondering how and where to open the company's first African computer center. "Yes, part of the interest stems from pangs of conscience," says Eric Schmidt, Google's CEO. "But there's also genuine opportunity for business and the draw of an African government that's treating foreign investors fairly."
Other prominent players are on the way. Qualcomm (Charts, Fortune 500), the $8 billion cell-equipment giant, plans to open its first African training center here. The CEO of Boston-based software company SolidWorks was here earlier this year to help launch Rwanda's first high-tech outsourcing firm. An Illinois maker of off-road vehicles wants to open an assembly plant in Kigali. And an executive at BNSF, the Texas railroad company, arrived in April to give the government advice about creating a light-rail line.
Then there's Dubitsky's lunch companion, Rob Fogler, who runs a small Rwandan investment fund backed by 25 U.S. investors, including the wife of eBay (Charts, Fortune 500) co-founder Pierre Omidyar. Fogler, 39, is visiting to check on his portfolio companies, field pitches from locals, and persuade Dubitsky to invest in a new fund devoted either to real estate or to new business ventures backed by Rwandans.
"The upside in real estate alone is huge," Fogler says. Demand for housing is high, from both locals and Rwandans living in Europe and the United States. And prices are low: An American-style three-bedroom home can be had for less than $75,000, and there are plenty more bargains in a country known for its scenic beauty, wildlife (Diane Fossey fell in love with gorillas here), and an easy climate. Quincy Jones owns a luxury home in Rwanda, and Oprah Winfrey has reportedly been looking at a similar property.
To be sure, there's a madcap element to all this sudden activity. The country imports almost everything it consumes, 90 percent of its people are dirt-poor, and its sprawling neighbor to the west, the Democratic Republic of the Congo, is highly unstable and home to armed rebels who have vowed to destroy the current government. "There's a Field of Dreams quality to Rwanda," says Peter Bartig, another American executive at RwandaTel. "What if we build it and prosperity doesn't come?"
Investing in Rwanda clearly isn't for the faint of heart. But for some, the work here carries, along with the promise of profit, more than a whiff of romance. Fogler gave up a thriving legal practice to build a series of investment funds in Rwanda and, despite constant setbacks, has plans to expand his portfolio. "The genocide, while tragic, meant that about 100 percent of the business elite changed," Fogler says. "Not many countries get that kind of chance for a fresh start."
Moving in on retail and real estate
On a curving asphalt road that divides one of Kigali's poshest neighborhoods from a modest one, a heavy rain is falling and the roadside ditches are spilling over, lapping against the wheels of Fogler's red Toyota Tercel. The car has a musty smell, which reminds Fogler why he always packs extra air fresheners when he comes here. This is his 13th visit, and he has long since stopped renting cars from agencies, which invariably force customers to pay for a driver - at a hefty premium. Instead, Fogler pays an airport employee $28 a day to use her Tercel. Driving yourself around Kigali, however, means negotiating the city's patchwork of streets and its vigilant traffic police.
When the rain lets up, Fogler jerks the car to a halt and scrambles outside. He points his camera at a cluster of houses being built across the valley. Then he spins and snaps shots of vacant hillsides. "We can build here, here, and here," he says.
Fogler has a dream. He thinks hundreds of U.S. investors will sink money into burgeoning Kigali, a city of about 850,000. But as Fogler knows, even those aware of the opportunity here can't readily invest as individuals. "People always ask, 'I have $15,000, how can I invest in Rwanda?' The answer is, you can't." Not alone, anyway. The time required to manage an investment here prohibits most Americans from attempting solo ventures. That's why Fogler pools relatively small investments from wealthy Americans into funds large enough to buy into different sectors of Rwanda's economy. Fogler's first fund is aimed at backing businesses with high growth potential. His next fund, of $5 million to $10 million, is the one that's going after property. "The time," he says, "is right for real estate."
Back inside the car, Fogler shifts into low gear and climbs a steep hill. To his right is a large billboard advertising new homes. He stops in the middle of the road to snap a few more pictures for potential investors back home, then drives on, turning left at the next intersection and pulling over for more shots. A Kigali police truck pulls alongside, with two cops in the front seat.
"Where did you learn to drive?" one asks.
Fogler feigns innocence. "What did I do wrong?"
"You stopped in the middle of the road."
Fogler apologizes, explaining that he just wanted to take a photo.
"Would you do that in America?" Fogler shakes his head, and the cop, apparently satisfied, warns him never to do it again.
Later on, after his property drive-bys, Fogler heads over to one of Kigali's tallest buildings - a six-story complex near the presidential compound - to attend a board meeting of his first Rwandan venture. Called Rocket2020, it's a chain of Kinko's-like stores that offer Internet connections, computers for rent, and an online shopping service. Fogler envisions the stores evolving into a kind of Rwandan J&R Electronics, peddling a variety of small consumer goods, from memory sticks to digital cameras.
It's a radically different vision, too, for Fogler, who just three years ago was putting in long days as a corporate lawyer in Denver. Despite a thriving practice, he wanted to add something extra to his life - a higher purpose. Not long after he saw Hotel Rwanda in 2004, he got an invitation to meet with a trade delegation from Rwanda. When he showed up, he found himself the only American in a room with Paul Kagame, Rwanda's president. "Enough with foreign aid, we want foreign investment," Kagame told Fogler, who by the end of the meeting was sold on the idea.
By 2006, Fogler - aided by the success of the movie - had raised $1 million for a business investment fund, Rwanda's first ever. With $300,000 of that, Fogler started on the launch of Rocket. The premise seems sound: People in the countryside are overcharged and underserved, so there's ample opportunity to scoop up sales using computer networks to reduce costs and prices. Shoppers select goods from an online menu. Orders are collected and filled from a central location. Rocket2020 fits a big niche - and comes with big risks. Fogler's five stores (he plans to open 25) are packed with people, but they're mainly using the Internet, not buying goods. Per-store sales currently hover around $50 a day, or $1,500 a month. Monthly losses total a few hundred dollars per store.
As he sits down at the conference table, Fogler plops down a plastic bag filled with 40 1-gigabyte memory sticks he bought in Denver for the bargain price of $10 apiece. They're not freebies for workers; he's replenishing inventory. Rwandans are accustomed to paying $50 a pop for these, Fogler explains, so they should sell fast.
That's the good news. The week before he arrived here, Fogler had to fire Rocket's chief executive, who proved incapable of sticking to company rules on handling cash. Sitting across the table from Eugene Nyagahene, the one Rwandan who invested in his fund, and Kalinda Beau, a Rwandan who has just moved back home after a stretch in the States, Fogler dives into discussions about reducing the company's burn rate, finding a new CEO, and introducing new merchandise. Eager to fit in, he speaks softly and displays the utmost patience. ("I want to be trusted here, respected," he explains later in private. "The business community is very small, and your reputation can turn quickly if you drop the ball.")
The interim CEO, a Rwandan who helps Fogler manage the fund, reports good news on slashing expenses. The burn rate is down sharply, he says, and for an unexpected reason: "Our former CEO enjoyed talking on the phone. Since his departure, phone expenses have drastically come down."
Building the dream: The Heaven Cafe
Atop one of Kigali's many hills, 60 or so Rwandan construction workers are in motion on a large residential lot with stunning views of the verdant surroundings. A ranch-style home is being expanded to accommodate an outdoor cafe, a bar, and a large kitchen. Some men are laying tiles. Others are piecing together the foundation for a wide wood deck and laying out the beginnings of a roof.
Choreographing the action is the only woman on the site: Alissa Ruxin, a 32-year-old native of San Francisco, who issues stern instructions to the workers in French. Her new enterprise, she says, will be called the Heaven Café. In addition to the restaurant, she will open an adjacent bar and spa. She and her husband, Josh Ruxin, an American development and public health expert, have invested their life savings - about $100,000 - in the place, situated in Kigali's best neighborhood. "In the United States, I never could have done this," Ruxin says. "The opportunities are everywhere. Anything seems possible in Rwanda."
The Ruxins came to Rwanda a year and a half ago. During the day Josh helps poor farmers; in the evenings he listens to his wife's tales of doing business in a landlocked, isolated African country. "My husband has a savior complex," Ruxin says. "He's one of many expats here because of postgenocide guilt. He wants to do good. I want to make money."
At the moment, her prospects seem bright. Hundreds of millions of dollars in foreign assistance are pouring into the country, and scores of new American and European aid workers need to eat. Ruxin estimates that one upscale restaurant can gross around $2,000 a day, with meals running about $20 each. Ruxin still can't believe that she will open by Labor Day with only a few serious rivals and says her profit could double or even triple her original investment within a year.
To succeed in the construction phase, though, Ruxin must involve herself in every aspect of the business - most important, controlling costs. "We came from Manhattan, where everything is just sky-high, and thought it would be dirt cheap here," she says, shaking her head.
How wrong she was. Consider the cost of wood for the deck. There are no Home Depots (Charts, Fortune 500) in Kigali, and since wood is rarely used as a building material, Ruxin sent one worker to a forest in neighboring Congo to select individual trees for cutting. A thousand pieces of wood cost her a breathtaking $5,000, not including thousands more to pay for milling and finishing.
Managing the locals - as Fogler, too, has discovered - is a constant trial by fire. At first Ruxin hired a foreman, but she took over herself after he made some costly mistakes. She also pays a guard - who reports directly to her - to dole out building materials. In the rush before the lunch break, she explains to her electrician that fluorescent lights are to be used only in staff areas. Customer areas will receive more expensive lighting. The electrician argues against her decision, then quietly accepts.
Ruxin next inspects the work of some masons and spots several cracked tiles. "You must replace these," she says to one worker, who seems not to understand. Fortunately there are leftover tiles, and she asks the worker to sort through them and find a few good ones. She watches him do so - then winces as a pristine tile slips from his hand, falls, and breaks.
Most of the men make $2 a day; the skilled laborers earn as much as $7 a day. That sounds like a pittance, but it adds up, Ruxin says. Several men even work through their lunch hour, moving piles of dirt that would otherwise cost Ruxin $25 per truckload. "We're already over budget," Ruxin says, "and we need to save where we can."
Cultivating a company of coders
Soft-spoken Antoine Bigirimana is quite possibly Rwanda's top software engineer. How he wound up here suggests another path toward profitability: importing tech talent and leveraging distance-defying computer networks.
Bigirimana, a Rwandan who grew up in exile in Russia, studied engineering in Belgium and then moved to California in the 1980s. He wrote chipmaking software for several Silicon Valley companies, made a small fortune, and in 1987 started a company called E-Tools. When the Soviet Union collapsed, Bigirimana was among the first to hire groups of Russian programmers, outsourcing jobs to Moscow and forging teams with Russians, Americans, and Rwandans like himself.
Four years ago Bigirimana opened an E-Tools branch in Kigali, trading on his software skills to land consulting contracts with the Rwandan government and businesses, which often had to fly in experts from Europe at great cost. E-Tools offers market-quality service at close to local prices. (Recently, Bigirimana has been writing code to update Rwanda's border-control software.) With deep ties to influential members of Rwanda's vast diaspora, Bigirimana draws on his knowledge of the country but not on family connections: His relatives were killed in the genocide. "For a virgin country like this," he says, "almost anything will work, so long as you do it right."
One smart decision early on was to persuade one of his top programmers in Moscow, Serge Iroshnikov, to relocate to Rwanda. Though Kigali is hardly a technological nerve center, Iroshnikov maintains his programming chops through periodic visits to Russia, where he studies advanced computer concepts, among other topics. But he doesn't feel he's slumming it in Rwanda. Given his coding skills and international ties, he says, "I don't think it's important where I live."
Besides, the homegrown Rwandan coders are coming up fast. "With the additional education given by us to the Rwandans, they are getting onto a good level," Iroshnikov says. Bigirimana gives some of his toughest coding assignments to 24-year-old Clotilde Tingiri. She started at E-Tools in 2005 as an intern; today she makes about $750 a month, a fraction of what Bigirimana would need to pay her in Silicon Valley.
Understanding the risks
If Americans are seen as saviors in Rwanda, the sentiment comes with some unpleasant baggage - and Fogler and others quickly find out why. Two years ago an Internet millionaire named Greg Wyler persuaded the government to let him take over Rwanda's ailing national telephone company. Wyler had a plan to crisscross the country with fiber optics, creating instant Internet everywhere. As part of the $20 million deal, Wyler received rights to launch a mobile-phone company, which in Africa - given the growth in wireless technology and the tiny number of landlines - is a veritable license to print money.
But troubles began immediately. A neophyte in Africa, Wyler misunderstood the difficulties of inheriting a state-owned company and soon faced a staff revolt. He also underestimated the costs of bringing new Internet services to locals. "I certainly made plenty of mistakes," Wyler admits. His good intentions, he adds, actually contributed to his miscues, such as mismanaging the sky-high expectations of Rwandans. "We didn't know how to say no to unrealistic demands."
Nonetheless, Wyler was vilified in the media and in government circles as a foreign capitalist staggering from one blunder to the next. "As a manager, he's a disaster," says Shyaka Kanuma, editor of Focus, Rwanda's leading weekly newspaper. In December the government told Wyler to revamp the company and bring in a professional manager, or else leave the country.
Wyler's answer was to hire Lundh, an executive from Southern California with experience working in several African countries. Lundh moved quickly to distance himself from Wyler, upgrade Internet service, and invest more in the company's operations. In May, Lundh changed the company's name back to RwandaTel, rolled out a new logo that incorporates national colors, and slashed prices on phones and mobile services. "We are the headline American investor here," Lundh says. "We have an obligation to do better."
Though RwandaTel is only breaking even, Wyler says, Lundh pushed through a capital spending budget of $20 million for 2007, with two-thirds going to mobile telephony. As a result, Rwanda will have real competition in the market for the first time. Lundh also is experimenting with laying new landlines in some neighborhoods of Kigali that can deliver, as a bonus, cable TV - a first in the country.
The turnaround is still a work in progress, but so far Lundh has impressed Rwanda's business elite. "Only the Americans are the right investors for this country," says Raj Rajendran, managing director of Rwanda's largest textile plant and one of Fogler's portfolio companies. "Americans are transparent, predictable, and make fast decisions. Rwanda needs them."
G. Pascal Zachary, a frequent contributor to Business 2.0, writes often about technology and development in Africa.

To send a letter to the editor about this story,
click here
.