1 of 100
Google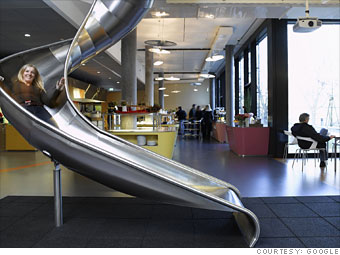 1
Rank
: 1
Previous rank
: 1
2011 revenue ($ millions)
: $37,905
What makes it so great?
The Internet juggernaut takes the Best Companies crown for the fourth time, and not just for the 100,000 hours of subsidized massages it doled out in 2012. New this year are three wellness centers and a seven-acre sports complex, which includes a roller hockey rink; courts for basketball, bocce, and shuffle ball; and horseshoe pits.
Headquarters:
Mountain View, CA
Website: www.google.com
Employees
Employees outside U.S.
N.A.
Jobs
% job growth (1 year)
N.A.
% voluntary turnover
N.A.
Job openings
(as of 1/2/13)
700
Most common job (salaried):
N.A.
N.A.
Most common job (hourly):
N.A.
N.A.
Fully paid sabbaticals
No
Health
100% health-care coverage
No
Onsite fitness center
Yes
Subsidized gym membership
Yes
Diversity
Has nondiscrimination policy
that includes sexual orientation?
Yes
Offers domestic partner benefits
for same-sex couples?
Yes
Professional training
Salaried employees (hrs./yr.):
N.A.
Hourly employees (hrs./yr.):
N.A.
From the Feb. 4, 2013 issue