32 of 100
JM Family Enterprises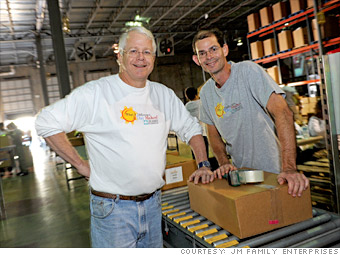 32
Rank
: 32
Previous rank
: 17
2011 revenue ($ millions)
: $8,900
What makes it so great?
Health and wellness centers staffed by doctors, nurses, and other health care professionals now function at eight locations of this Toyota distributor, providing primary care, wellness exams, complete physicals, vaccines, and lab tests at little to no cost to employees.
Headquarters:
Deerfield Beach, FL
Website: www.jmfamily.com
Network with JM Family Enterprises
Employees
Employees outside U.S.
122
Jobs
Job openings
(as of 1/2/13)
52
Most common job (salaried):
Operations Account Representative
N.A.
Most common job (hourly):
Assembler
N.A.
Fully paid sabbaticals
No
Health
100% health-care coverage
No
Onsite fitness center
Yes
Subsidized gym membership
Yes
Diversity
Has nondiscrimination policy
that includes sexual orientation?
Yes
Offers domestic partner benefits
for same-sex couples?
Yes
Professional training
Salaried employees (hrs./yr.):
14
Hourly employees (hrs./yr.):
8
From the Feb. 4, 2013 issue