76 of 100
Baptist Health South Florida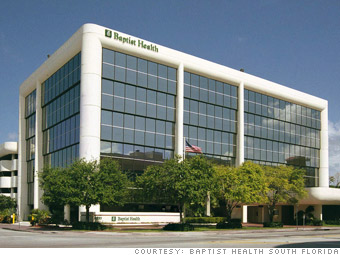 76
Rank
: 76
Previous rank
: 42
2011 revenue ($ millions)
: $2,304
What makes it so great?
Workers at the health care nonprofit, which has seven hospitals and 28 outpatient clinics, can address problems through a network of advisory groups staffed by employees.
Headquarters:
Coral Gables, FL
Website: www.baptisthealth.net
Network with Baptist Health S. Fla.
Jobs
Job openings
(as of 1/2/13)
298
Most common job (salaried):
Nurse Practitioner
$102,261
Most common job (hourly):
Proficient R.N.
$77,649
Fully paid sabbaticals
No
Health
100% health-care coverage
No
Onsite fitness center
Yes
Subsidized gym membership
No
Diversity
Has nondiscrimination policy
that includes sexual orientation?
Yes
Offers domestic partner benefits
for same-sex couples?
No
Professional training
Salaried employees (hrs./yr.):
24
Hourly employees (hrs./yr.):
24
From the Feb. 4, 2013 issue