100 Best Companies to Work For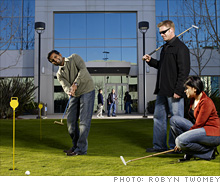 Even in this economy, some companies are going out of their way to please employees. This year, there's a new no. 1, as Google slips to no. 4. See detailed profiles of the top 100 employers, including interactive maps, key perks, contact information, and more.
More

California is home to the most companies on this year's list. See the top employers near you (including interactive maps) and the best places to live nearby.
more


Select benefits you want and see instantly which Best Companies offer them.
more

Data storage company NetApp continues to grow revenues while boosting employee morale -- enough to topple Google (No. 4), which held the crown for the past two years.
more

The quirky retailer has a reputation for fun. It's also a model of how to nurture employees in good times and bad.
More


Does your employer deserve to be on the list? What makes your company an awesome place to work? Send photos and videos that show us why.
more