(Fortune Magazine) -- A.G. Lafley and Jeffrey Immelt have lots in common. They're silver-haired CEOs launched from Harvard Business School to become chiefs of giant, iconic companies.
They started their careers at the same place - Procter & Gamble. Today they're CEOs on the modern American plan: overscheduled, overscripted and underslept, soft-spoken and informal, disdaining neckties except when they can't.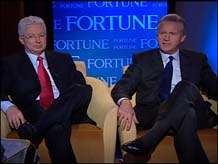 GE's Jeff Immelt and Procter & Gamble's A.G. Lafley discuss their strategies for driving growth.
Play video

But that's not why they're friends. What makes Immelt and Lafley one of the business world's most interesting buddy acts is something else they share, a problem that virtually everyone in business now faces, but one that for them is defined with razor sharpness and is playing out on a giant scale. Good thing they have one other thing in common - they're showing how to solve it.
General Electric's Immelt, 50, and Procter & Gamble's Lafley, 59, have come to know each other only in the past five years, but they talk often now and clearly feel a sense of shared challenges and philosophies.
Backstage before a recent onstage interview with me, they were relaxed and comfortable. Lafley was just back from two weeks in Asia but holding up well. "We both had a sense of wanting to move fast," he had told me earlier, recalling what first drew them together. Says Immelt: "He was always the guy I wanted to get to know, because I liked what he was doing."
As for that mammoth problem that unites them, it's exquisitely simple to describe: delivering profitable growth. Yet the challenge it poses is extraordinarily hard - particularly for Immelt and Lafley, who run such huge companies. GE (Charts), at No. 7 on the Fortune 500, had revenues in the past 12 months of $160 billion; P&G (Charts), No. 24, had $72 billion. To grow faster than the overall economy - something investors demand - Immelt and Lafley have put themselves on the hook for raw-dollar gains that would stagger most managers.
To meet P&G's growth targets, Lafley has to find about $7 billion of new revenue this year, equivalent to a company the size of Barry Diller's IAC/Interactive. At GE, Immelt has to find about $15 billion of new revenue, equal to the size of Nike. And if they succeed, of course, they'll have to turn around and find even more next year.
Both CEOs have used acquisitions to fuel some of their growth in the past, but they acknowledge that relying on deals can be dangerous. "They're a luxury," Immelt once told me. It's so easy to overpay when buying growth, and experience shows that the bigger the deal, the bigger the risk.
Thus both CEOs have arrived at the same solution, the same big idea that motivates virtually everything they do - another mantra easy to say but hard to execute: organic growth.
A pair of innovators
There is a favorite business buzzword that goes along with organic growth, the subject of countless articles, books, conferences and consulting practices: innovation. It's a word that Immelt and Lafley can't repeat often enough, but not because they are inclined toward platitudes. The beauty of the word is that it's a nonthreatening way to talk about making major changes. And if a company - particularly a big one - is to supercharge its organic growth, major change will be a necessary and critical ingredient.
Immelt and Lafley have not shied from breaking china. Quietly, both have substantially shaken up their boards of directors and top executive teams. They've also reformatted their companies' fundamental approaches to cultivating change and innovation - as they explain in the interview.
Most impressive, they seem to be getting the organic growth they want. Lafley has declared a goal of 4 percent to 6 percent annual organic growth and claims to have achieved 6 percent on average over the past five years. Immelt is aiming for 8 percent and says he has hit or exceeded that in each of the past seven quarters.
If it seems striking that CEOs in such different businesses should be speaking in such similar terms, it may be more surprising that these two didn't really know each other until they became CEOs. Both are sons of GE executives. Immelt's father, Joseph, was a manager in the aircraft-engines operation in Cincinnati, P&G's hometown. That's where Immelt grew up. Lafley's father was a high-level human resources executive. (Former GE leader Jack Welch still calls A.G. "Al," which is how his father was known inside GE.)
Immelt and Lafley didn't overlap at Harvard Business School or at P&G - where Lafley worked on Joy dishwashing detergent, Immelt on Duncan Hines brownie mix. Yet both became CEOs in the same post-bubble era, Lafley in 2000 and Immelt in 2001. Immelt has since invited Lafley onto the GE board.
And now that they're both fighting the same essential fight, how's it going? For Lafley, it's going pretty darn smoothly - helped in part by serendipitous timing: He took over soon after P&G stock dropped by half in the wake of a surprise earnings shortfall. The company's stock arguably had nowhere to go but up, yet he has done better than just revive its fortunes: P&G shares have surpassed their boom-market peak and were recently at all-time highs.
For Immelt the picture has been more complicated. GE stock is down 11 percent since he took over, in a time when the S&P 500 has gone up 28 percent. Still, revenue and profits have risen at double-digit percentages in each of the past eight quarters. The businesspeople polled in Fortune's most recent survey of corporate reputation like what he's doing and apparently figure redirecting a beast the size of GE takes time. Earlier this year they voted GE the world's most admired company, with P&G close behind at No. 3 (Toyota (Charts) was second).
No matter how they fare in the future, these CEOs have much to teach. No one can avoid the challenges of an info-based global economy, the need for organic growth or the innovation imperative. Immelt and Lafley are going down a road everyone in business will have to travel. Watch and learn.
________________
GE Industrial profit up 13%