(Fortune Magazine) -- "Sue! SLOW DOWN!" Quincy Jones screamed, his normally baritone, saxophone-esque voice jumping into Aretha terrain, his body straining against all six racing belts holding him in the seat. In fairness, the Maybach Exelero's salacious side exhaust pipes were bellowing so loudly he had to lean on his own set of pipes just to be heard. I acquiesced, backing the throttle off from snarl to purr. Quincy shot me one of his famous looks. "You are a wild woman! I like that."
And I like firsts (and onlys) - for instance, driving with a legend. So to celebrate my official return to Fortune after a seven-year hiatus, I achieved a double first-and-only: driving with Quincy in the Exelero, an $8 million one-off collaboration between Mercedes' ultra-luxury division, Maybach, and German tire manufacturer Fulda (with support from private collector René Staud, who owns the car).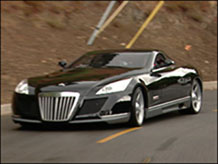 Fortune's Sue Callaway test drives the new $8 million Maybach Exelero.
Play video

Above all, this supersized two-seater is unique; no marketing exec argued that buyers wanted a 19-foot-long, 6,000-pound coupe with 23-inch wheels and gas mileage of 2.5 mpg at full throttle. In fact, the Exelero - bless its unapologetically over-the-top heart - is the antithesis, the car that didn't need to be. The beast was built to develop Fulda's ultra-low-profile Exelero tires and break a speed record for a car of its proportions and mass, which it did: 218 mph, or 351 kilometers per hour.
Jones is a similarly record-breaking (and -making) heavyweight, boasting a glittering comet tail of achievements, including the most Grammy nominations of all time (79). He has worked with everybody from Duke Ellington to Michael Jackson - and has an honorary Oscar, 27 Grammys, an Emmy and a French Légion d'Honneur medal crowding his proverbial mantel. His current projects seem endless: producing multiple films and CDs, global philanthropic work and consulting for the Beijing Olympics with Spielberg. At 73, the man moves as fast as ... well, a Maybach Exelero, actually.
As Quincy recovered from our one-block adrenaline burst, I gunned all 700 horsepower once more. Even with the pedal to the metal, the Exelero's sheer bulk caused a multisecond lag from the twin-turbo-charged V12's wind-up to actual launch. Quincy yelped again, then tried to be nonchalant. "McQueen used to scare me too - doing 90 around Mulholland," he remembered.
I suddenly backed all the way off, the Exelero's power plant burbling raucously; if Darth Vader ever laughed, this is what it would sound like. I wanted to hear the great Mr. Jones explain why he had never actually driven. "When I was 14, I was a passenger in a terrible accident," he said. "After that, it never held any appeal. But this car makes me wish I could drive - it's a high-powered instrument. There's nothing like greatness, honey - please! I recognize it." Hey, I was just happy to be chauffeuring it.
As we paraded and prowled the boulevards of Beverly Hills (listening to his 1989 bebop/hip-hop fusion CD "Back on the Block"), carload after carload of youthful admirers pulled up, exclaiming over the extreme sheet metal - and Quincy. One guy was so in awe of the car he fumbled - and took a picture of his own torso. Another bystander asked, "Are you ... Miss Maybach?" (Note to manufacturers: If you want to capture the sub-twentysomething buyer, consider outrageous lines and land-yacht proportions. Putting a musical genius inside is optional - but helpful.)
As we talked, the intense gas fumes spewing from the pipes that exit through the rocker panels made for an unusually heady brew. Still, I focused on the "work" at hand, noting with admiration some of the interior details. The center console is a sleek tower of piano black wrapped in neoprene; mysterious buttons beckon. Lipstick-red carbon-fiber bands grace the doors and dashboard, yards of black leather wrap the deeply bolstered seats and brushed aluminum accents the gearshift knob, pedals, and surrounds. It's one part racetrack (two matching red helmets are strapped behind the headrests), one part boudoir.
Quincy loved it. "This car is complex," he purred. "If it was a piece of music, it would combine Duke Ellington, Stravinsky and Ravel. You know, a rawness - with sophistication and very strong character."
I'll say. This is the first time I've ever driven something that had so much presence I forgot about searching for its performance limits.
Maybach insists that another Exelero will never be built. However, the worldwide reaction to the car has been so strong that Mercedes execs admitted they are considering a Maybach two-seater, although officially "there are no immediate plans." I hope they do - the marque would do well to broaden its luxury-limo image.
As the sun dropped in the sky, I reluctantly returned Quincy to his Bel Air perch - and the Exelero to the 18-wheel tractor-trailer that awaited it. With the lovely jazz sax of Quincy's voice reverberating in my ears - "This car would make anyone look good," he mused - along with the throaty V12 being driven into the distance, it hit me that the man and the machine manage to achieve the nearly impossible: They're both cool and hot, all at once.
_________________________
Forecasting auto winners - and losers - for 2007