(Fortune Magazine) -- There's a reason you may be considering buying a gas-electric hybrid vehicle - besides wanting to help the environment or visit the gas station less frequently. Your hybrid awareness is a direct result of what is arguably the most audacious and impressive marketing/product-placement coup in memory.
Toyota/Lexus has consistently, cleverly, and tirelessly spent an estimated $100,000,000 to make "hybrid" a household word. The Japanese juggernaut (which just surpassed GM (Charts, Fortune 500) in global sales to grab the No. 1 spot) has a secret weapon: a small but powerful nonprofit organization, the Environmental Media Association.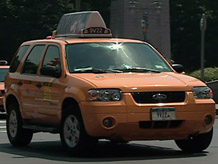 One taxi company profits from going green in the busiest city in the world. CNN's Ali Velshi reports (April 23)
Play video

Based in Los Angeles, EMA is single-handedly responsible for getting droves of celebrities into Toyota (Charts) hybrids. EMA also played a key role in placing the top execs at the major Hollywood agencies - William Morris, CAA, Endeavor, and ICM - behind the wheels of hybrids.
EMA's board is an entertainment industry who's who: Pierce Brosnan, Blythe Danner, Ted Turner, and DJ AM, among 52 others. NBC Entertainment president and EMA director Kevin Reilly says, "Toyota's been a good partner - they realized they needed to make hybrids sexy; we helped." Jim Wiatt, CEO of William Morris and owner of a Saturn Vue Green Line hybrid, says, "Toyota was smart. The entertainment industry plays a leadership role in this country. It's about being able to demonstrate good values."
There's a very different technological solution coming from Europe. Mercedes-Benz, BMW, and VW/Audi are betting on the new diesels, which are fuel efficient (VW's European Jetta TDI, which hits the U.S. early next year, gets 40 city, 60 highway) and run on the new ultra-low-sulfur diesel fuel (which has 15 parts per million of sulfur vs. the old stuff's 500 parts per million) or biodiesel.
Unfortunately, the companies' marketing machines are seriously lagging: Americans still perceive diesels as smelly, dirty, and noisy. In truth, the technology has sprinted light-years ahead. I recently drove a Mercedes E320 BlueTec diesel. There was no bad smell, no inelegant rattling sounds. The startup and takeoff were immediate, and the power on acceleration was addiction-forming (diesels produce far more torque than comparable gas engines).
The next hurdle: Make them even cleaner, to beat gas engines. Six diesel models are on sale in the U.S.; expect many more in the next few years. No matter what type of vehicle you choose, smaller is better, a lesson Arnold Schwarzenegger hasn't yet learned: California's partially green Governator has five Hummers in his driveway - but one is a biodiesel and one is hydrogen powered.