12 of 50
McDonald's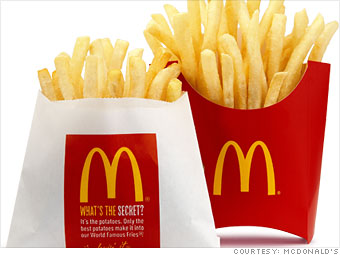 12
Top 50 rank:
12
Rank in Food Services:
2
(Previous rank: 1)
Overall score:
7.81
Ticker:
MCD
Why it's admired:
After 73 years, the world is still lovin' it. The iconic home of Ronald McDonald and the Golden Arches skillfully played the recession, emphasizing bargain items. Now, McDonald's is aiming to further expand its appeal with a suite of new products and green enhancements in recent years designed for an increasingly health-conscious nation. New ads highlight the farmers that grow the potatoes and other veggies that eventually become Happy Meals. Its innovation machine is still cranking. This year, expect a low-calorie egg white sandwich, new Quarter Pounder builds, and European-style larger wraps. —AV
Headquarters:
Oak Brook, IL
Website:
www.AboutMcDonalds.com
Nine key attributes of reputation
Industry rank
Use of corporate assets
1
Quality of products/services
5
From the March 18, 2013, issue.