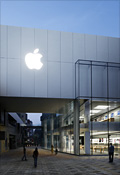 Which companies have the best reputations? With admiration in such short supply these days, it's more valuable than ever. Apple tops the list for the second year in a row. Who else made the top 50 this year?
More

More

From aerospace to wholesalers, which companies scored the highest when ranked by their peers and rivals? Plus, see the complete rankings for 64 industries.
more

He's obsessed with numbers and execution. In other words, the HP CEO is the guy you want running a company in a recession. But is he a CEO for the ages?
More
•

HP stays lean and mean
In these turbulent times, a stellar reputation is a powerful asset.
More
* This year companies whose industry scores are equal when rounded to two places will receive the same rank, i.e., they will tie. In cases of ties, companies are listed in alphabetical order.
Find companies you most admire
Video
Despite the clouds surrounding the industry, three banks made it to the top 50 of Fortune's Most Admired Companies list.

Watch

CEO Mark Hurd has transformed HP, No. 30 on Fortune's Most Admired list, from industry doormat into the largest of the tech titans.

Watch

Fortune's Stanley Bing looks at qualities, like repeated layoffs, that could land a company on this, um, prestigious list.

Watch
This year
Fortune
has revamped the Most Admired Survey by combining the former America's Most Admired Company (AMAC) survey and the former World's Most Admired Company (WMAC) survey into one...
More